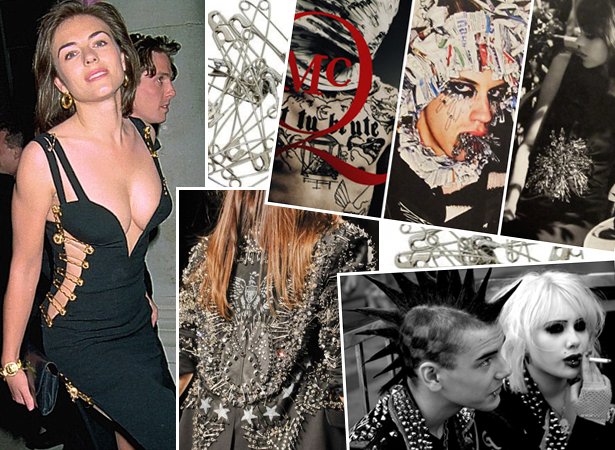 ShareThis
I believe the last time I used safety pins as a fashion statement I was an angsty 15 year old slashing up tee shirts and pinning the band logos to the back of my jean jacket, switching them out as my musical tastes evolved (or devolved, depending on who you ask).
As much as the slashed and pinned look has been a sort of trademark of the anti-establishment rebellion of the 70's and 80's punk movement, the look – or rather just the safety pin itself – has carried over into high-end fashion, evolving in a sort of avant-garde, rock 'n roll way, while always retaining the rebelliousness of it's roots.
Aside from the punk movement, I think one of the most significant fashion events for the safety pin was indeed the infamous Versace dress that Liz Hurley wore to the 1994 premiere of then boyfriend Hugh Grant's movie Four Weddings and a Funeral. All thigh-high slits and plunging neckline, she single-handedly gave the safety pin a sexy fashion makeover.
Jump ahead a few years to 2007, where a young Brit designer by the name of Gareth Pugh sent two amazing dresses down his Fall 2008 runway – entirely covered in safety pins – again reviving the humble pin, but this time in a futuristic and avant garde way.

Gareth Pugh, Fall 2008
More recently the safety pin has been added to runway looks ranging from the rock 'n roll ensembles of Balmain, to the arty youthfulness of Vena Cava – who for Spring 2010 crafted an adorable cropped tank/vest out of oversized safety pins.


Clockwise from top left: a Balmain jacket, necklace by Tom Binns, Vena Cava Spring 2010, photo from Dazed and Confused, Gianni Versace on the runway with Christy Turlington in another one of his sexy safety pin creations.
For Spring 2010 Vena Cava again utilized the safety pin, but this time on a cut-and-pinned oversized button up tunic, allowing for a slim strip of midriff to peek through. Whether you have an older button up you want to revive, or have one in your project queue, this is a quick and easy way to add an edgy update to a classic piece.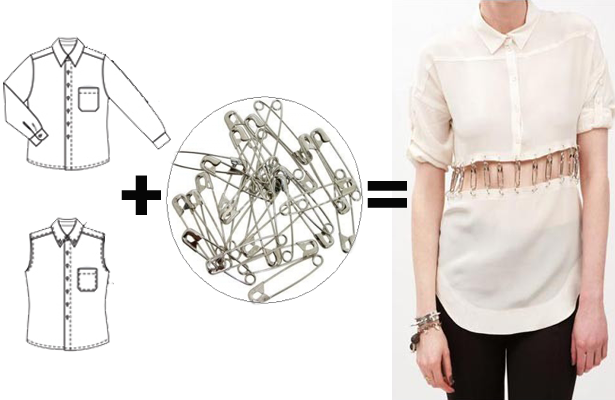 Sew it yourself with the Jakob Shirt Pattern
Also for Spring 2010, Christopher Kane added colorful oversized safety pins to his dresses for Versus, creating a youthful homage to the Versace dress that came over a decade before. A simple cap sleeve dress, a few slashes at the shoulder seam and hemline, a handful of bright safety pins to pull it back together and you've got your own version of the Versus look.


Sew it yourself with the Cap Sleeve Dress Pattern
Last but not least – the updated, much more chic version of the safety pinned jacket. Moschino created a Chanel-esqe collarless version trimmed and accented with safety pins.


Sew it yourself with the Cropped Collarless Jacket Pattern
Have you used the safety pin in any of your projects? How would you add this punky accessory to your looks?