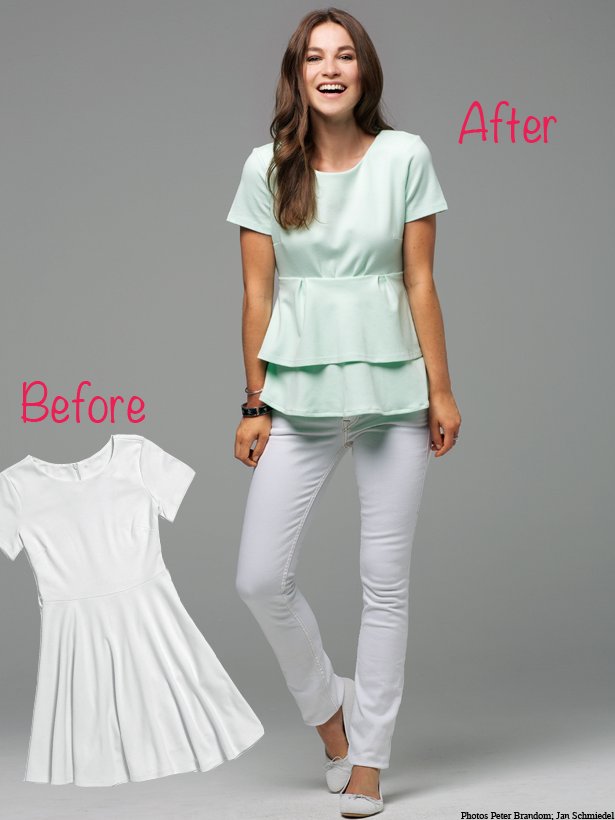 ShareThis
What about that long-forgotten shirt dress in the wardrobe, or that old long T-shirt? Why not simply turn it into a feminine top with flounce?
All you need is a jersey top or dress, scissors, vanishing marker, measuring tape, straight pins, needles and sewing thread.
What to do:
Measure 55cm (21 3/4") down from front neck edge. Mark this level around the dress and cut here. Turn hem to inside and stitch it in place. Now measure 24cm (9 1/2") down from the neck edge. Here, measure 1.5cm (5/8") and 5cm (2") to right and left of center. At these positions, lay fabric in pleats, each 1cm (3/8") deep, toward center front. Stitch pleats in place. Measure the new circumference just below the bust. On the piece which was cut off (flounce), measure approx. 20cm (8") up from lower edge, trim it here, and finish cut edge with zig zag stitching. Cut flounce to match the new circumference plus 10cm (4") (for two inverted pleats in front). Stitch flounce edges together, to form a ring. Lay inverted pleats in flounce piece. Sew flounce to marked line, right sides facing.
Happy Sewing!