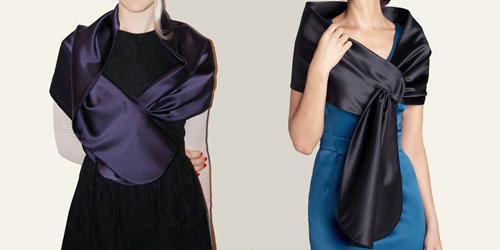 ShareThis
We've said this already but spring is in the air, and with these budding times come proms, graduations, formals, weddings and parties. That's right, it's time to look glamourous again. This week I am featuring a project created by a special man who thoughtfully brings to pass FREE pattern-drafting tutorials on his blog Weekend Designer and shares them with the public. How divine.
The patterns on Weekend Designer are created from or inspired by designer items. By scrolling through the blog you will get the gist. I was so pleased to come across the Satin Stole posting, finding this the perfect, make-in-under-an-hour project to crown your formal wardrobe in a personalised manner. You can visit his blog to pursue the free, step-by-step stole making tutorial by clicking HERE.
I took it upon myself to make my own satin stole (pictured above left). Ok, I'll be honest. I cut corners. I made my slit opening as one would make a machine-made button hole. I did not follow the instructions to create the finely faced slit as plotted on WD. Upon testing the instructions however, the only major difference between Weekend Designer's pattern instructions and the stole pictured on the right (courtesy of Maggy London) is the length. If you'd like your stole to be longer than mine, I would add about 30 inches to the total length. That would mean either creating a seam in the stole (as I marked above in red) or finding a fabric which exceeds 60 inches in width.
Lustrous satin fabric shapes an elegant wrap designed with a pull-through slit opening for easy adjustability.
What you'll need:
1 yd. (0.90 m) of satin fashion fabric, 60″ wide
Coordinating thread
Small patch of fusible interfacing
Fray Check ® fabric sealant
Good luck, and thank you Don (from Weekend Designer). And my humble apologies for originally referring to WD as a she, I was coming down with a cold and my head was quite fuzzy…my tail's between my legs.