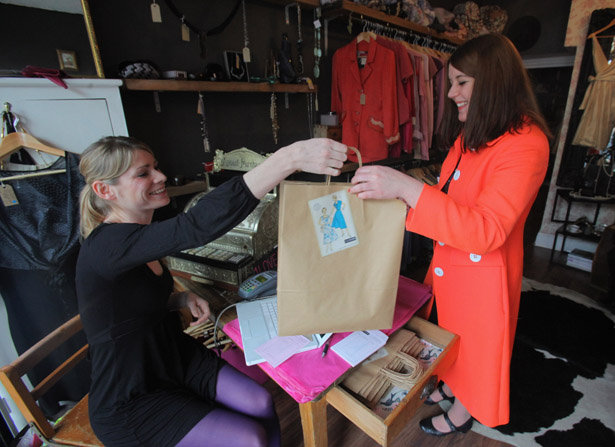 ShareThis
Do you dream of having your own sewing or fashion business? Register for Monday's web seminar to learn what it takes to run a successful small business.
Darcy Lewis has an MBA in Entrepreneurship and Marketing, and in 2008, she opened her own studio, offering ready-to-wear and custom designs. This web seminar will distill all her MBA and entrepreneur experience into a fast-paced one-hour session. Don't miss out, click here to register for Monday's web seminar.
In this web seminar you'll: learn what it takes to have a successful small business and how to assess if this is the right career for you – and explore some options if it isn't! Darcy will discuss whether your business should be online or physical store-front; what kind of space you'll need and how to get customers. We will walk you through the questions you should be asking, and teach you how to think about your business and research your market. We'll also give you some alternative options for selling if you decide being a business owner isn't right for you. Register for Monday's web seminar if you're a small business owner-hopeful who would like information on opening your own sewing/crafting or fashion business
What You'll Learn:


How to attract and keep customers
How to choose between an online-only business vs a physical store-front
How to manage your inventory
How to leverage local resources and apps
How to plan your finances
Who Should Attend:


Artists/sewers/crafters who want to sell their wares but aren't sure if they should open their own business.
Entrepreneurial types who need a little help walking through all the things you need to think about.
Small business hopefuls who are overwhelmed at the thought of their own business and aren't sure where to begin.
Businesses that are already open, but aren't doing well – maybe they overlooked some of the details we'll cover.
Have a question about a specific technique? There will be a Q&A session at the end of the web seminar where you can ask Darcy any questions you have, and no question goes unanswered!
Can't attend the live web seminar? Everyone who registers will receive a recording of the event in next Thursday's thank-you email, along any downloads or resources referenced during the web seminar, and will have the ability to ask any follow-up questions via email.
Click here to register for Monday, February 10th's live web seminar at 11:00am EST (4:00pm GMT).
Hope to see you all there!