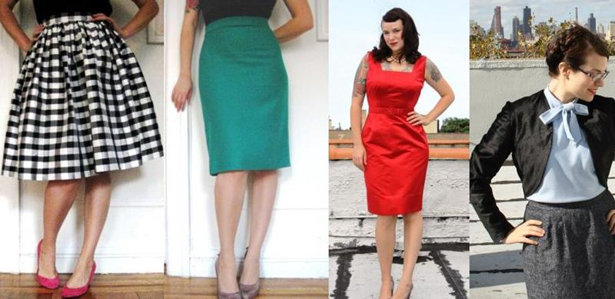 ShareThis
Want to incorporate some retro or vintage items into your wardrobe, but aren't sure where to start? As I've mentioned here before, I'm in the midst of a blog project in which I'm sewing every fashion from a 1952 book called Vogue's New Book for Better Sewing. The book is comprised of 14 essential items for a well-rounded wardrobe. So far, I've made 7 or the 14 projects, and having these basics has transformed the way I dress.
Here are five great fundamental pieces that you can make too. These are all easy to sew, and they can be effortlessly integrated into a contemporary wardrobe. For instance, I'll pair a pencil skirt with a modern knit top, or my bow-tied blouse with jeans and heels. Just because you like vintage doesn't mean you have to dress like you're going to a sock-hop!
1. The full skirt
A full skirt is a versatile piece that can be paired with blouses, jackets, or even tank tops. Slip on a pair of brightly-colored pumps and you're good to go. Try my tutorial to make a gathered skirt like the one above or if you prefer a circle skirt without a gathered waist, try the Linda pattern here on BurdaStyle.
2. The high-waisted pencil skirt
Pencil skirts are a flattering wardrobe staple. Add a high waistband and it's a classic retro look. I love to make them in jewel-toned wool crepe, like the emerald green one above made from Burda 8155. Also try the new Jenny Variation A or the Kasia skirt.
3. The sheath dress
A classic! Make it in any and every fabric, from wool flannel to duchess satin. With a square neckline and a matching fabric belt, this screams 50's glamour. In cold weather, wear it as a jumper with a cashmere sweater, tights, and boots!
4. The bow-tied blouse
Also called a "secretary blouse," this is a piece that always looks polished. I made mine in baby blue wool jersey and it's comfy and chic for the office. Try BurdaStyle's adorable Ute blouse or the keyhole version of the Sencha blouse from the brand-new line of Colette Patterns.
5. The cropped jacket
I don't know how I lived without my black velveteen bolero (paired with my bow-tied blouse above!). I wear it with dresses, jeans, you name it. Try Burda 7686 for a similar effect.
Okay, your turn! What retro basics can you not live without?