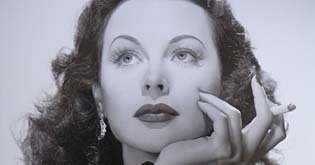 ShareThis
This week, BurdaStyle gets serious.
ICON
HEADY
LAMARR
Choosing this week's icon wasn't easy. Along with their panoply of runway looks, designers named a multitude of inspirations: Daryl Kerrigan reverenced Klute, "Little Edie" Bouvier Beale was the guiding spirit behind Philip Lim's show, Behnaz Serafpour name-checked Vanessa Redgrave, in Camelot. Relative newbies Jason Wu, Bruno Pieters and Jose Ramon Reyes cited Jane Birkin, Tina Chow and heretofore unacknowledged fashion icon Elle Macpherson, respectively; new Anne Klein designer Isabel Toledo cited, well, Anne Klein. And I haven't even the scratched the surface of influence.
Model-turned-photographer Lee Miller was one obvious choice for this space?not only because Gucci designer Frida Giannini claimed her, and not only because she was a Poiret favorite in a season padded with homages to the Poiret '20s, but also because Miller went from being a VOGUE cover girl to one of the first people to photograph a concentration camp. That trajectory seemed appropriate to Fall 2007's "grow up and get with it" message; still, it seemed churlish to favor one designer's muse over another.
Thus, no Lee Miller. Instead, I bring you Hedy Lamarr. The seasonal beauty trends are there in the Lamarr glamour shots of the late 1930s and early 1940s: Red pout, arched brow, artfully tousled hair. That era of Lamarr is echoed in the season's most prevalent looks, as well: Spare, bias-cut gowns for evening; printed bias-cut dresses for day, plus a wide-brimmed hat; for weekends, mannish trousers with a svelte, belted sweater. I would have picked Katharine Hepburn, a forever idol of mine, but for the fact that Hedy Lamarr's life itself seems emblematic of this season's runway mood. Scandalous in her day for appearing nude in the film Ecstasy, she was a lousy actress who got by on her looks and married six times. Tabloid fodder, in other words.
Meanwhile: In 1942, Lamarr and friend George Antheil patented the Secret Communication System. Horrified by Naziism, they offered their frequency-hopping technology to the U.S. Government, which promptly filed it away and suggested that Lamarr's services might be more valuable in support of war bonds. She sold them to the tune of $25,000 a kiss, and 20 years later, the Secret Communication System was rediscovered and deployed during the Cuba blockade. The patent had expired. Frequency-hopping went on to serve as the basis for mobile, spread-spectrum technology? over my head, but to make a long story short, you can thank Hedy Lamarr for your cell phone, your wi-fi connection, and the GPS system in your luxury car. The dame had beauty and brains. This season, they're both in style.