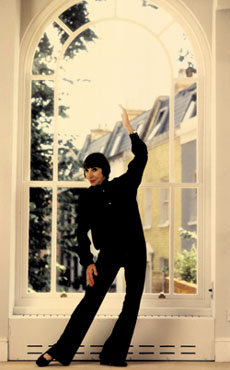 ShareThis
This week BurdaStyle says hello to summer, and goodbye.
LOTTE
BERK
Damn you, Lotte Berk. Damn you, I'm thinking.
I can't remember the name of this instructor, so I'm going straight to the source with my curses in Lotte Berk class tonight. We're catbacked over the barre, crushing a gym ball between our thighs as we squeeze and lower and lift through the last of a thousand tiptoe plies. And three, and four, and five and… Damn you. Damn you.
Lotte Berk is my icon this week not because Lotte Berk is causing me pain, but because Lotte Berk is, thanks to the pain, getting me back into my bikini this summer.
For the uninitiated, Lotte Berk was a disciple of Joseph Pilates who figured out a way to intensify his dancer's workout by incorporating ballet class moves, variegated and repeated ad nauseum in order to strengthen and lengthen and get the heart rate pumping. The Lotte Berk Method was adopted and so-named by one or several of her devotees, who opened studios. That's the simple version, and the Method is pretty back-to-basics, when you get right down to it. That's what drew me to Lotte Berk in the first place, in fact – I quit my last gym in a huff about six months ago, when they canceled the first and last exercise class I ever loved to make way for another pole-dancing workout. I doubt not that strippers have great bodies, but I feel there's a sort of cart-before-the-horse mistake going on in making, um, stripping into "exercise." Also: I've spent a lot of my life trying to avoid the sorry fate of working the pole, and there's something a little gauche to me about nice, 9-5 middle class girls fetishizing the job. It all feels porny. But I digress.
Back to Lotte and the class I like to call "psycho-lates." What I despise about Lotte Berk is exactly the same thing I love about it: The class makes me work. The exercises are designed precisely to force you into whatever muscle group is on the schedule; it's really hard to cheat. And even when you're slightly out-of-form on, say, a series of Pilates-inspired crunches, you wind up working your abs anyway, if not as deep down in the core as you'd get if you were doing everything just-so. I did Pilates for years and always found it an easy discipline to cheat my way through; likewise, I never cursed any of my Pilates instructors, and on the other hand, I never saw the well-nigh instantaneous results I have from Lotte. In my world, cursing and fitness go hand in hand.
The Lotte Berk name is falling out of favor these days. People are updating her routines with yoga stretches and extra fun, like the gym ball in my class, and otherwise trending up the Method in an attempt, I presume, to steal attention from pole dancing classes and the rest of the novelty workouts out there. The semi-famous Lotte Berk studio in New York City closed a while back. But if you've ever taken a Bar Method class, or any class taught at the barre, it's probably Lotte Berk moves you're doing. And with beach season approaching, they're the best moves you can do. Just bear in mind my maxim as you squeeze and lift and lower, or tilt your pelvis heavenward for the umpteenth unbearable time: If you're not cursing, it's not working. Thank you, Lotte Berk. Thank you.