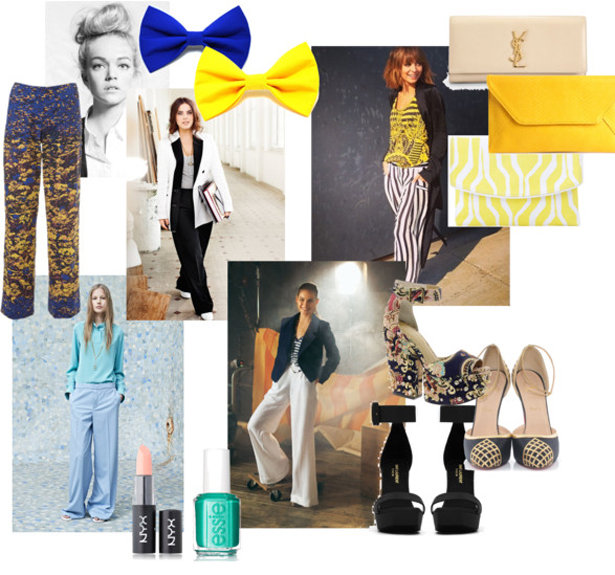 ShareThis
Resort collections are all about wide leg pants. See why we love this trend!
Pants, clockwise from top left: Burdastyle Baggy Pants 7/2013, BurdaStyle Marlene Trousers (Plus Size) 3/2013, Nicole Richie in Balmain, BurdaStyle Wide Pants 4/2011, Chloe Resort 2014. Source: Style.com
I couldn't settle on just one pattern for this week's pick. Like Meg, I've been drooling over the latest runway shows. Resort collections often don't get as much attention from magazines as Fall or Spring, but they have a big influence on trends. As Style.com pointed out in their trend report, resort pieces are on store racks for more time than any other collection. That means more time to make a splash in street style, and influence the kind of trends people actually wear.
One trend I'm obsessing over is wide leg pants.
A long, flowing pant is comfortable and effortless. Paired with a basic tank or more elegant blouse, baggy trousers are a refined summer look for days when you want to feel put together. And, if you need another reason to rock this shape, they're also quite slimming. When cinched at the waist and paired with a platform shoe, your legs will appear to go on for days. To get a sexy, Katherine Hepburn/Annie Hall vibe, try mixing feminine details like a bright clutch, sleek topknot, and well placed bow with your oversized bottoms. A nude lip and summery manicure finish the look.
Below, the popular Pocket Trousers.
Low-slung is the new trend, but I still prefer mine high-waisted. I'm a shortie, and low-slung and wide is just too much for my petite frame! Either way, ultra-relaxed silhouettes are in for this season. Pick your favorite style!
Happy sewing,
Mandie