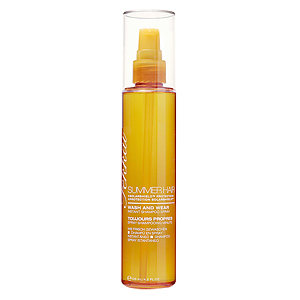 ShareThis
True story: When I was in junior high, I washed my hair with Woolite.
Not all the time, but every once in a while, when "things," as I called my hair back then, got a little "extreme" (my mom's word.) We'd been in Florida about a year when the Woolite tip came, from a Supercuts stylist with a mass of thick curls just like mine. Things had gotten a little extreme: Humidity, daily sunshine, swim team chlorine, saltwater at the beach, the overabundance of product I put in my hair every day to try to deal with the bleached, frizzy, freaked-out mess on top of my head. This is what happens to hair when your life is endless summer.
I don't recommend Woolite. I cite my Woolite experience as a cautionary tale about summer hair, only. We all love those insouciant sunny highlights and a few straight-from-the-beach tousles, but take heed: I watched the pilot episode of "John from Cincinatti" the other day, glimpsing endless summer hair again on the heads of surfers, and really, it is only a look that pulls off with a wetsuit and a thousand-yard stare out of bloodshot eyes. Protect thyself. Frederic Fekkai has made it easy, launching three elegant, easy-to-use, effective new products for summer, my favorite of which is Wash & Wear, spray-on shampoo that lifts the oil, toxins, dirt and product out of your hair without exposing it to the strip-search of water. Spray, re-style, and head out into the blazing sunshine safe in that Wash & Wear, like all Fekkai's Summer Hair products, is charged with the brand's proprietary suncreen technology, Solarshield, I don't recommend not showering not showering all summer. That would be a little extreme.