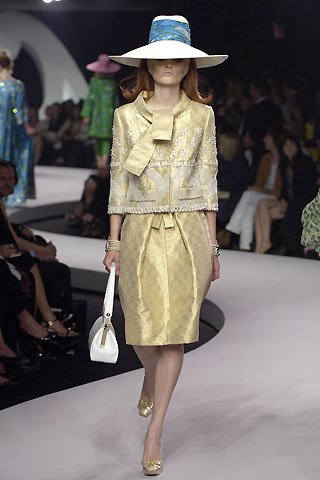 ShareThis
Socialite Rank exposed! Paris Hilton in prison! Tinsley vs. Olivia: Does Anyone Care?!
If the news is to be believed, the mini-moment of the socialite is over. Or "ov-ah," as it should be pronounced in one's best New Canaan accent. But the resort runways say different: Indeed, John Galliano's show for Dior made the opposite point, and in spectacular fashion. His Lilly Pulitzer palette, boxy Jackie O. tops and scarf-wrapped hats were tailor-made – literally – for the ladies-who-lunch, and who summer in Capri, and who yearn for glamour and decorum in equal measure when they swathe themselves in lime chiffon for the latest mus-do function. In other words, the old school socialite is back.
There seems to be a multi-media longing for such throwback gals, the Nan Kempner and Pat Buckley types who kept couture in business, sat on charity boards and kept up appearances at the club. Susanna Salk's new book, A Privileged Life: Celebrating WASP Style, got a great big launch at arriviste prepster shop J. Crew; meanwhile, the incomparable doyenne Iris Apfel snagged a feature and fashion spread in ACNE paper, the twice-yearly magazine published by Swedish style avatars ACNE. Does this mean everyone will be in shantung and Pepto-pink by winter? Hardly. But there is a trend afoot, one that aims to reassert the line between downtown and uptown, the difference between chic and cheap, or stuffy and subversive, if you prefer. Either way, class is in session.