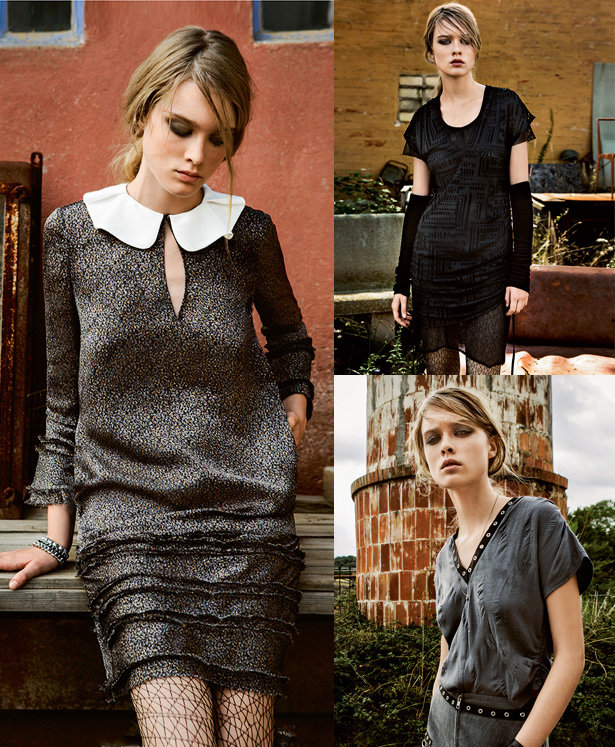 ShareThis
Oversized Peter Pan collars, safety pins, and layered silhouettes are exciting and moody in this collection. Find your new favorite piece for concerts and dive bars. These designs are from the February 2014 issue of Burda Style magazine.
An exaggerated Peter Pan collar gives a peekaboo effect to the Keyhole Blouse with Ruffled Collar. This adorable blouse is a statement piece that's sure to get you lots of compliments however you style it.
Grommets and washed silk combine for a cool top with interesting texture play. The V neck and ruched sides are just feminine enough with the tough embellished neckline.
This bad girl Safety Pin Mini Skirt has a short hemline, grommet embellishment, zippered pockets, and safety pin trim for a fun rocker look. Dare to bare or slip it on over tights and combat boots.
Three different washes give the Denim Mini Skirt a gradient effect. It's a versatile piece with all the pocket detailing you'd find on a pair of jeans that you can punk out with ripped fishnets or cowgirl up with boots and a button up shirt.
A cool keyhole is set off by an interesting knotted neckline in the Knotted Long Sleeve Top. Jersey skims the body so you can tuck this top into trousers like the Fold Over Pants. These silky soft pants have a little New Wave vibe with a high waist and pleating around the hips.
Don't be scared off by bold vertical Striped Skinny Trousers… black and white is easy to match, and so slimming! These pants turn any outfit into a statement and will definitely get you noticed.
Pair a delicate cap sleeved silhouette with tough leather to get this cool top. You can wear it on its own, or zip it up over a slim turtleneck or tee to layer on some rock style.
This Keyhole Dress with Ruffled Collar is such a unique piece. Ruffles decorate the cuffs and hemline, and an exaggerated Peter Pan collar gives a peekaboo effect to the keyhole neckline. The length is versatile enough to wear to the office or a dinner party.
This Ruched Dress has a beautiful layered look like 90s rock icons. A simple short sleeved shift is topped with a sheer ruched overdress. It looks pretty and moody in black, and can be dolled up in a sheer floral print.
This collection is a nice break from all the spring florals about to hit stores. Moody shades of grey and black can still be pretty, especially with a little sheer fabric or an ultra-feminine collar.
Happy sewing!