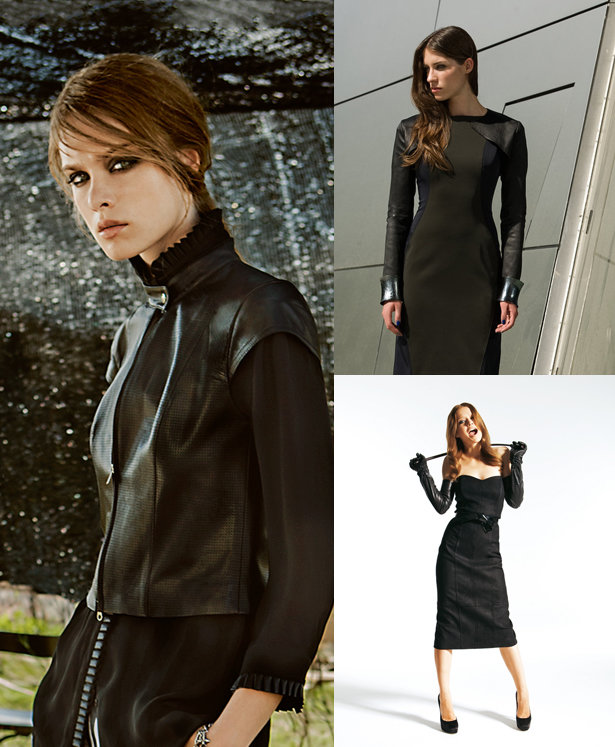 ShareThis
We're counting down 10 of our favorite patterns in rock & roll leather. suede, and denim! You may just find your perfect pattern for the upcoming web seminar, How to Work with Leather, Hardware and Distressed Denim.
Just because you aren't on tour with a punk band doesn't mean you can't inject a little rock n' roll lifestyle into your sewing. A leather jacket over a dress or leather pants with a plain white tee can totally change up your look. Here are 10 of our favorite alternative patterns…
Dress up for a night out in this strapless stretch suede bustier.
White leather is rebel chic with asymmetrical zips, snap pockets, and quilted shoulders.
Designed in whipcord, this jacket would be perfect for fall in faux suede or even denim.
A short and simple bolero. This piece is a perfect canvas for studs!
This racy little number in stretch suede is just the thing to feel like a total knockout.
6. Leather Top
Cap sleeves sweet up tough leather and a biker chick high snap collar. You can still enjoy leather in warm weather!
Borrow someone's bike and give these form fitting pants with quilted knees a spin.
A streamlined shape is the understated way to wear leather pants. Try with a plain tee shirt.
Everyone needs one denim mini in their closet.
10. Wrap Mini Skirt
The Wrap Mini Skirt has that 80s flair, especially in imitation snakeskin or metallic.
Incorporating leather into your style is easy. Sewing it? That's trickier. For helpful tips that make sewing leather, hardware, and distressed denim a breeze, check out tomorrow' web seminar, The Fundamental Details of Alternative Fashion.