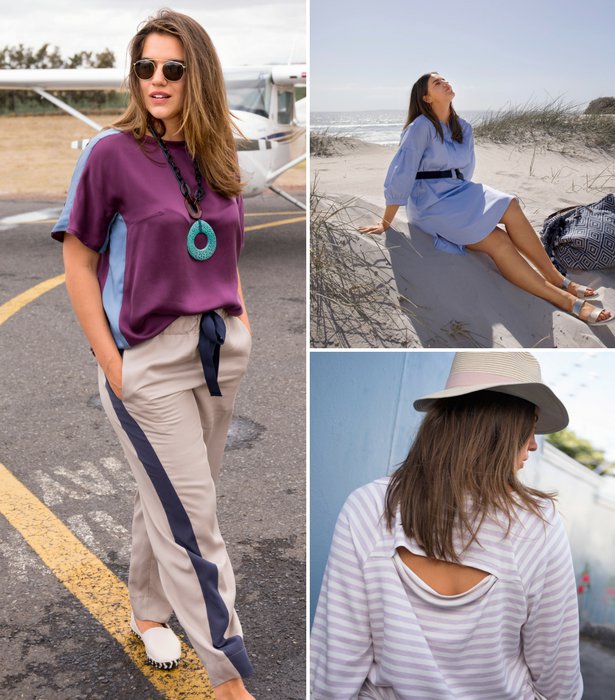 ShareThis
Colors and patterns that feel and look great – sewn with easy-care and light-weight fabrics in feminine silhouettes for sizes plus sizes. Hello holidays, it's time to travel in this collection from the 06/2017 issue of BurdaStyle magazine!

A fresh blue and summery poplin is used for this lightweight shirt dress. Fashion highlights include the plastron, split neckline and on-trend volume in the sleeves to make this an absolute must-have.



Color-blocking excellence. The bands on the overcut sleeves and on the sides add a splash of contrast colour. A button in back of this shirt draws the slit together and keeps it easy to pull on.



The classic bomber jacket is one we know and love. This summer we would like to introduce the trendy longer version! Rather than a standing collar, this style with welt pockets is topped by a curved neckline and a gathered neckband. The style is flexible enough to work even with a cocktail dress for an evening out!



Here is the perfect cut of dress for large print pattern fabrics. A straight-line silhouette and wide raglan sleeves let the print stay center stage on this dress.



More elegant than a T-shirt and more comfortable than a blouse. A bateau neckline and overcut sleeves are a versatile style. This top works with jeans and sneakers for sightseeing or with a pencil skirt and sandals for dinner



The plastron with tucks and the rounded, extended back hem are elements of the classic menswear shirt. The boho vibe print, and the cropped and gathered sleeves shift this dress to a wonderfully feminine style. For those who find the length a bit short, simply wear the piece over plain and narrow trousers.



These are comfort wear for long travel days. The waistband for these trousers sewn with breathable Tencel stays comfortable thanks to the elastic casing and drawstring. The blue of the band is repeated in the side stripes as a cool feature.



A new go-to favourite! This T-shirt is sewn with a sweashirt fabric that is easy-care and comfortable. A surprise design feature includes a waterfall drape in back – placed perfectly so that a brassiere can be worn. The sleeves can be rolled to your comfort.


Make all these styles up in various fabrics with the discounted pattern collection bundle here!