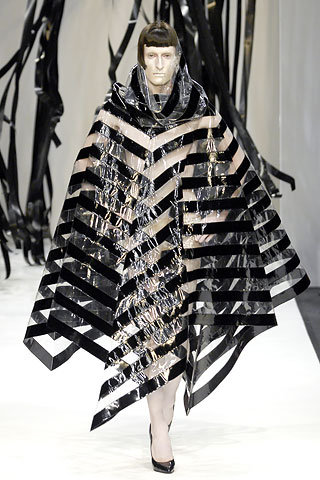 ShareThis
This week BurdaStyle goes to the dark side.

NUDE

AS

THE

NEW

Now that the dust has settled, and after a month of letting the fashions jangle around my head, a sense of the seasonal mood for fall has begun to take shape. Mood, in fashion, is a different thing from its trends; it's the quality of clothes that's most difficult to piece out into "buy this, skip that" tips or notes on silhouette or styling. The distinction is similar, in some ways, to the difference between a hit single you can't get enough of for a month, and an album that doesn't make sense at first, but to which you keep returning; the analogy breaks down, however, when you consider that, unlike a record, which is made to abide, every fashion collection is designed for eventual obsolescence. And consider too, a premise of fashion so obvious, it almost doesn't bear writing: Fashion exists to be worn. Clothes are functional in a way music isn't, and thus extracting the meaning of a dress is complicated by one's judgments of its dress-ness, e.g., if I wore that, would it make me look fat?

Designers who intend to sell clothes take the functionality of their collections as seriously as they do the style; the very greatest designers find ways to disseminate mood through details of cut and color. Thank God for them. Otherwise there would be nothing to wear. But if you're looking for a naked expression of fashion mood, you look to the fringe, and to the clothes that caused you to recoil. This is the stuff that makes main street laugh at fashion, parody its 'emperor's new clothes' pretensions and excesses. Look for plenty of that in Sasha Baron Cohen's forthcoming "Bruno" movie, a development deal that ought to trouble the sleep of all the runway jockeys who hooted at the rubes sent up in Borat. And to be sure, not all scary fashion is visionary – the witless, the gauche and the redundant abound. And meanwhile, some of the most beautiful clothes we saw for fall are meaningful, too. Look again at the shoulders on the dresses at Lanvin: Broad and muscular in silhouette, they are chimeras of pattern, silk pockets of air. Projected strength; inner vulnerability. You can read a lot into those sleeves. Or think of Olivier Theyskens' debut at Nini Ricci, the dreamy gowns with their angled seams and plummeting tiers of ruffles; the dresses seemed to be fraying right off the models' bodies. They looked like apparatitions. If you want to read a message into that show, it's that we're falling apart.

Nor was Rick Owens' show one of theoretical clothes, never mind its meta inspiration: The work of French cartoonist Sens, who caricatured women wearing Poiret as insects. The Poiret shapes made Owens' shearlings and wool knits look on-the-mark, and though they're not exactly Banana Republic, neither would you shy from wearing them. But give another moment's reflection to the Sens reference, the part about "insects," and take another look at the bundled-up and, yes, bug-like Owens looks. Kafka comes to mind, of course, and from there it's not a long leap to cockroaches, and from cockroaches to nuclear oblivion. OK, maybe that last leap is a big one, but roaches are popularly assessed the survivor species, and more importantly, Owens' clothes looked apocalyptic, stuff the smart set will be wearing when radioactive winter rolls around. Maybe Owens just has a dismal turn of mind, but the collection seemed worried.

For a truly frightening forecast, however, look no further than cherub-cheeked London It-Boy Gareth Pugh. He's as pugnacious a designer as Alexander McQueen was, when he started, and Pugh's Fall/Winter show pulled very few punches in the name of wearable style. Yes, the cowl-necked coats with their sharp fur and patent detailing made the retailers happy. But by and large, Pugh was portending a spectacularly cruel future, one in which some of us are dressed for battle, and the rest of us swathe ourselves in plastic to stay safe from the poisonous elements. Would I wear his see-through, banded ponchos? No. Is his vision cheerful? Again, no. Is fashion feeling cheerful this season: No. Happy shopping.