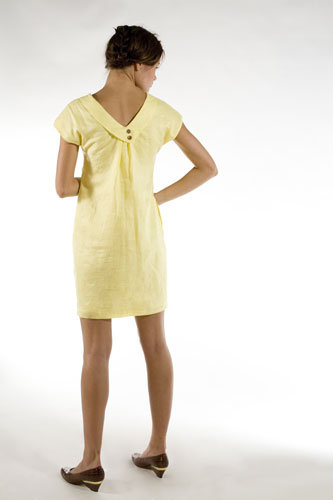 ShareThis
This week, BurdaStyle gets literate.

FASHION

DESIGNER

:

BON

&

GING

"Intellectual fashion" used to strike me as an oxymoron. Fashion was something for girls who spent an hour feathering their bangs in the morning. Intellect was possessed by women who had better things to do with their time. I've been reeducated, of course: Elsa Schiaparelli was as Dada as Breton and Man Ray; Geoffrey Beene was a mathematician, playing elegant games with the geometry of cut. More recently, designers

such as Rei Kawabuko , Hussein Chalayan and Miuccia Prada have proved themselves theory nerds of the highest order. And any great leader of a fashion house must possess a rigorous intelligence. But, in thinking about brainiac designers, and how the idioms of their clothes are like and unlike a writer's voice, it struck me that all these designers specialize in pyrotechnics, large statements, fashion on an epic scale. The collections they write may be as different as the novels of Dickens, Dostoevsky, Flaubert and Faulkner. But the ideas behind the fashion are just as sprawling.

Where, I wondered, were the fashion designers making collections slender, gemlike, clean and perfected, like the novels I love by writers like Muriel Spark, Italo Calvino, Georges Simenon, Fleur Jaeggy? I found my answer in new line Bon&Ging. Modest in tone, yet punctuated by singular details, the impeccably tailored clothes in the Spring '07 collection designed by L.A.-based sisters Nanette and Grace Sullano references "The Lover," by Margeurite Duras. The connection is mostly coincidental: As Grace notes, it was the movie adaptation that provided the inspiration for the clothes.

"We loved the idea that Jane March's whole wardrobe could fit into one suitcase," Grace recalls. "And then the other inspirations for this season were a bolt of crinkly linen, and the roses in my garden."

Previous Bon&Ging collections have shown a similar discipline of influence and method. The Sullano sisters' debut, shown at GenArt's Fresh Faces show in 2005, pared down Navajo looks to a modern minimum, and last season's noir-inspired collection performed the same trick on classic wool trousers and boxy jackets.

"Our aesthetic is a combination of bold and understated, organic and architectural – similar to our individual personalities," Grace explains. "Nanette is a wardrobe stylist and I'm a designer with an architectural background. But what she share," she goes on, "is an appreciation for good design for the everyday."

Only three seasons old, Bon&Ging, is currently sold at Louis Boston, Los Angeles's Creatures of Comfort, and at the Bon&Ging storefront in L.A.'s Silverlake. But the Sullano sisters have epic ambitions for their line, albeit ones they plan to implement one measured step at a time.

"We'd like to do accessories, and menswear, and maybe eventually a line for the home," Grace says. "But our plan is to expand slowly. And whatever we do, our goal has always been to create a reasonably priced line without sacrificing the intent of the design.