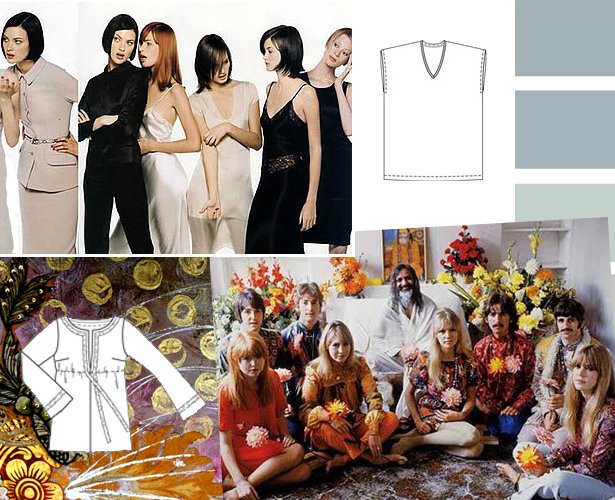 ShareThis
The tunic is a great staple piece for any wardrobe. Whether you keep it low key or play more on the flashy side, chances are you can find a tunic style that suits your every mood. Tunics are also quick projects that provide a great basic template to really express your individuality and creativity – make it in a beautiful print, simple cotton or add your own finishing touch with beads and applique – there's really no limit to the ways you can customize a tunic to make it truly your own.
Spring is right around the corner (and I can't think of a better season to bring out this style) so check out great ideas for tunic projects – both wild and tame to get you in a creative mood!
First, let's start out with the patterns. Your tunic can be either a top or a dress, long or short sleeved.

From left: Belted Tunic Dress, Ellinor Top, Ruched Back Tunic Dress, and Basic Tunic patterns.
Once you've picked your pattern, it's time to pick your style, and fabric choice plays a huge part in the end result of your project. Choosing patterned or textured fabric is a great way to make your finished tunic interesting, while sticking with a luxe fabric in a solid color will insure that your tunic is timeless and transitional. There are truly a million different ways to interpret a tunic and make it speak to your individual style.
Are you a bohemian at heart? Check out inspiration for tunic projects perfect for getting in touch with your inner love child.
The Tunics

Clockwise from top left: Tory Burch, a gorgeous tunic with intricate embroidery, top by Jen's Pirate Booty, Tory Burch, Mimi Caftan, and Alice Temperly
The Inspiration
Maybe you like to keep things a bit more simple. No worries, there are loads of great options for tunics that capture the sharp, clean lines of minimalism.
The Tunics

Clockwise from top left: Piazza Sempione, Heidi Merrick, Helmut Lang, Acne, Celine and Lemlem
The Inspiration
Inspired to whip up your own tunic? Which look will you go for – bohemian or minimal? Or maybe you'll create a look all your own!