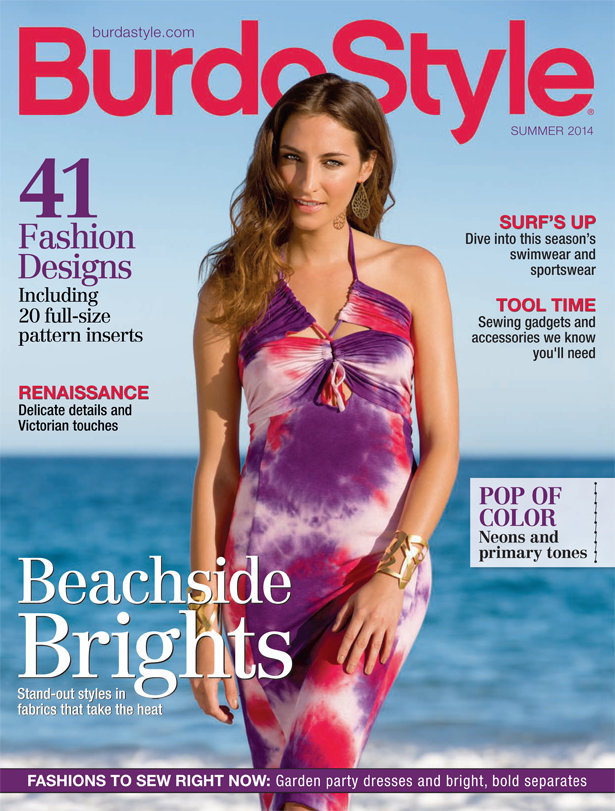 ShareThis
As always, the magazine features unique Burda designs, 20 full-size fashion pattern inserts, plus runway inspiration, detailed sewing how-tos, and trend pages. Get ready for a spring in style!
The weather is heating up and so are these designs!
Celebrate the season with BurdaStyle Summer 2014. In this issue, you will discover 41 fashion designs, 20 of which come in a full-size pattern insert, for warm weather. From fitted, figure-hugging styles, flowing cover-ups, and maxi dresses, you are sure to find a summer style that you will want to sew right now!
This issue of BurdaStyle US magazine (and in all of the BurdaStyle US magazines going forward), includes 20 patterns as full-size inserts. The remaining patterns shown in each fashion editorial are available as paid digital downloads, with links provided in the magazine.
Here's a rundown of everything inside…
Fashion:




Tapered Fit—Take in you outdated jeans and add a zipper details

Daydreamer—Enchanting dresses in luminous body-skimming fabrics

Garden Party—Flowing styles and warm-weather fashions in vibrant colorways

Kaleidoscope of Colors—Summer dresses and separates in bold, vivid hues

Victorian Romance—Angelic, feminine designs inspired by a daydream

Catching Waves—Sporty styles take the spotlight in bright-hot neons
DIY Trends & Styles




Fringe—Add Fringe detail to existing accessories

Shoe Cuffs—Dress up ordinary shows with fashionable

DIY

cuffs

Brass Ring—Add metallic detailing to a sew-it-yourself tote

Text Art—Dress up a Tee with fabric paint and printed letters

Bronze Babe—Beauty products that'll take you to bronzed-goddess status

Folk Art—Three ways to style-up a hippie-inspired tunic

Color Wheel—Bright, colorful accessories that dress up any outfit

The New Romantics—Softened accents that add a feminine touch
Sewing




New & Now—The latest products, books, and accessories

Cutting 101—All about fabric shears, scissors, and rotary cutters

Tool Time—The right accessories for your sewing machine

Sew This: Batik Dress—Your step-by-step guide to sewing our cover dress
We include fleshed-out instructions to every single pattern that is featured in the magazine, but only ones indicated as a "pattern insert" are available on the pattern insert pages.
You can buy the digital copy of the magazine today, now on sale from $14.99 to $12.99!
The hard copy of the issue hits newsstands on May 27th. Subscriber copies should arrive in your mailbox this week.
Buy a physical copy of the spring issue here
Get a year subscription to the physical issue (if you're in the US) here
Get a year subscription to the physical issue (if you're outside of the US) here