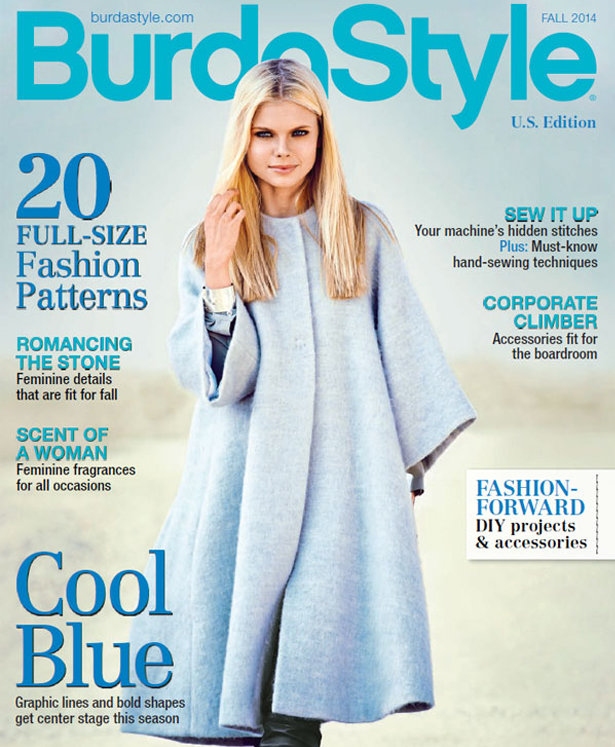 ShareThis
Your fall fashion magazine collection isn't complete without BurdaStyle U.S. Get the new Fall 2014 issue for $12.99!
This is the season when runways rule, sumptuous fabrics take center stage, and beautiful layers make to-die-for ensembles.
In this issue of BurdaStyle U.S., you will discover tons of fashion designs with 20 featured in a full-size pattern insert that exemplify fall fashion. Whether you love the challenge that fall fashion trends often bring to any sewist, or you enjoy more of the simplistic, yet ever stylish, fashions, there's something for everyone to enjoy in this issue.
Fashion:
BIKER CHIC—Transform a classic denim jacket with edgy leather sleeves
GRAY SCALE—Cinematic separates in soft, smoky fabrics.
DRESSING THE PART—Sophisticated, sultry pieces for any occasion
EMERALD CITY—Dreamy styles in dazzling shades of green
FLORAL ROMANCE—Enchanting fashions in pretty, feminine fabrics
FALL INTO STYLE—Classic, romantic designs in warm autumn hues
DIY Trends & Styles:
ASYMMETRY—Turn a simple T-shirt into an alluring one-shoulder top
NECKWEAR—Jazz up a simple top with an oversized bow tie
ALL OVER PRINTS—Create eye-catching jeans with a stamp, roller, and fabric paint
CLUTCH—Sew a cute zip-up clutch with decorative topstitching
THE PERFECT PERFUMERIES—Fragrances that delight plus fall's top makeup hues
SHADES OF GREEN—Brighten up any outfit with delightful green accents
POLISHED PROFESSIONAL—Sophisticated accessories to spice up your work wear
FLOWER POWER—Three ways to style our gorgeous floral dress
Sewing:
NEW & NOW—The latest and greatest in sewing notions, books, and accessories
HAND SEWING 101—A helpful guide to hand sewing and no-sew techniques
STITCH SELECTION—Learn all about a multitude of sewing machine stitches
SEW THIS: PEPLUM BUSTIER—A step-by-step guide through the construction of our peplum bustier
In Every Issue:
TOP 10—The sewing notions you can't live without
PREVIEW—See what's coming up in the Winter 2015 issue
INSPIRATION—A knit bag for the season
You can see every design included in this issue below…
Get your digital copy now! You can also find BurdaStyle U.S. magazine in craft and book stores.