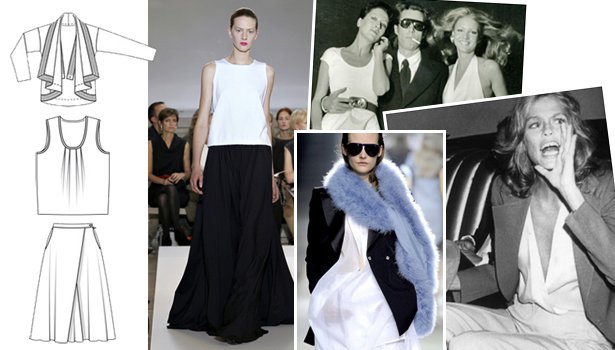 ShareThis
There's a great story about socialite Nan Kempner who, after being told she could not enter the chic La Cote Basque in NYC wearing pants, simply stripped them off and entered sporting only her tunic. The idea that a woman could not enter a restaurant in a pair of pants is a bit baffling now and a testament to how our ideas of what is considered elegant and chic are constantly shifting. In our busy modern times it seems appropriate that chicness is now being aligned with comfort and no longer are we required to bind ourselves up in complicated clothing to be seen as well dressed and put together.
As a fan of the more-Tilda-Swinton-less-Meghan-Fox kind of chic, I welcome the addition of what was once considered "casual" attire into a more dressy context (within reason, of course), and pulled together some of my favorite Spring runway looks that embody the idea of modern, laid back elegance.
I am a tomboy through and through and often (ok, always) gravitate towards pants – no matter what the style situation. Thankfully it's been easier than ever to find great trouser options to dress up or down and loads of inspiration for how to get it right.

From left: Doo.ri, 3.1 Phillip Lim and Haider Ackermann. Patterns clockwise from top: Louisa Vest, Scarf Front Top, Trousers with Ankle Zipper, Cropped Trousers and Oversized Vest.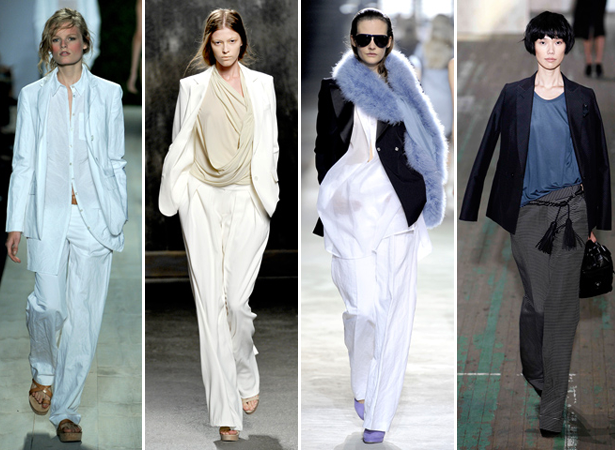 From left: Michael Kors, Doo.ri, Dries Van Noten, 3.1 Phillip Lim. Add a jacket to your chic pants ensemble – try BurdaStyle's Suit Jacket and Oversized Jacket patterns.
If basic shapes and simple fabrics are just a bit too boring for you, shake up those wide-leg pants and comfy tops by making them in textured fabrics. You can never go wrong with a little sparkle.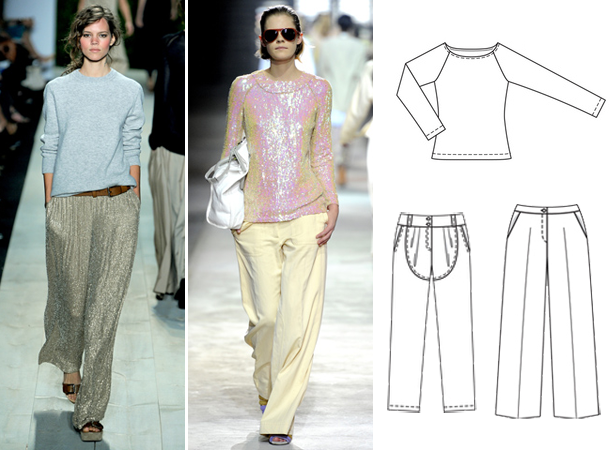 Left to right: Michael Kors, Dries Van Noten. Patterns clockwise from top: Long Sleeve Top, Janina Trousers, and Boyfriend Trousers.
Although this look sort of takes me back to the mid-90's when it was all the rage to wear baby doll dresses over ripped up jeans, a simple dress paired with slightly flared trousers seems fresh and modern.

From left: Dries Van Noten, photo courtesy of Shopbop.com. Patterns clockwise from top left: Tunic Dress, Fatina Dress, Flared Trousers and Maxi Dress patterns.
Maxi skirts are still a huge trend for Spring. Shimmering silk or comfy cotton versions with thigh-high slits provide just the right amount of drama, especially when balanced with more conservative or masculine tops and jackets.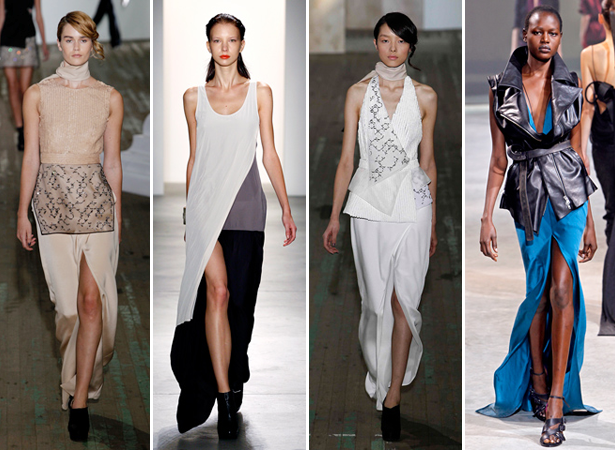 From left: 3.1 Phillip Lim, Jeremy Laing, Phillip Lim and Haider Ackermann.
Full skirts are another great way to balance elegance and comfort, sort of a ball gown feel without all the pomp and circumstance.


From left: Haider Ackermann and Jil Sander. Patterns from top: Embellished Jacket, Top with Pleats and Long Skirt patterns.
Other ideas for easy chic outfits:

From left: A simple column dress in a solid color is always a safe (and comfortable) bet – Calvin Klein. One-piece dressing makes life so much easier, and a silk version makes dressing up a breeze – Haider Ackermann. Play around with cool jackets, an interesting cut can make even the most basic of outfits seem instantly stylish – Calvin Klein. A classic button up shirt gets a dose of glamour with paired with a beautiful full-length skirt – Donna Karan.
The inspiration:
When putting together this post, I couldn't help but notice how many of the outfits reminded me of some of my favorite icons from the 70's. Angelica Huston, Bianca Jagger, Lauren Hutton….they all added a sort of tomboyishness to their glamour that never made it feel too stuffy or constrained. They always looked incredibly comfortable and easy in the clothes they were wearing, whether it was a plunging Halston gown or a tailored YSL suit.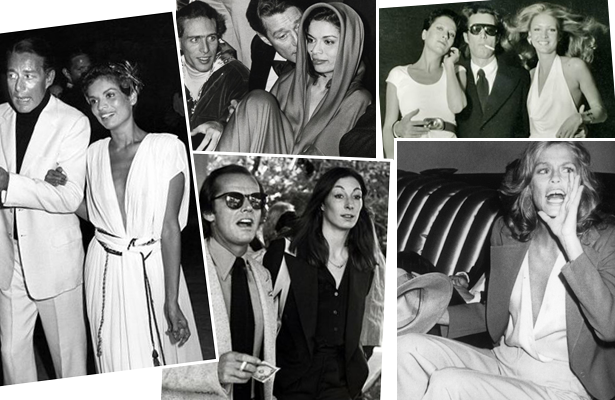 So now I want to know, what's your idea of elegance? Plunging necklines? Sparkly mini-dresses? Tailored pantsuits? What do you consider "dressed up"?
Photos courtesy of Style.com and Shopbop.com.