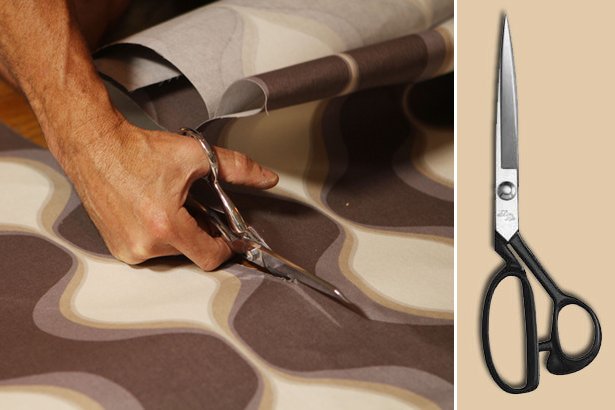 ShareThis
If you sew then I don't need to tell you about how important it is to have a good pair of scissors. Shears to be precise. I had a great pair years ago and my kids got ahold of them, used them on who knows what and they were ruined forever. Take note, NEVER let your kids near your sewing shears!
I have been functioning with a pair of stainless steel Gingher shears I bought some years ago at JoAnn. They are good but not as precise as the aforementioned ones I had purchased while in design school. Well, I stopped by an estate sale yesterday and asked the woman in charge if she had any sewing related items. She proceeded to bring back an antique looking pair of shears with a black handle. I tested them and they were incredible, so I forked over my five dollars. I noticed they said Shozaburo Tokyo on them and I know the Japanese are reknowned for making the BEST knives in the world, so I was sure they were good at crafting scissors as well. Here is what I learned about Shozaburo Tailor Shears on this website.
The Shozaburo Shears Story
Combining Tradition and Technology
In the middle of the 1880's, many of Japan's old customs began to give way to the strong influence of Western culture. This trend was apparent in every part of Japanese life from politics to society and culture. Clothing was no exception, as many Western style clothing stores began to open in major cities and the Japanese populace began trying these new fabrics and fashions. This trends towards Western fashions was further accelerated when the government introduced laws prohibiting the samurai class from carrying swords and wearing their hair in certain styles. Along with this increased demand for Western fabrics and fashions, the tools used by Western tailors were also introduced to Japan for the first time. Before this time, the only tailor's tools used in Japan were those similar to knives used for cutting straight lines, and small hand-held shears used for more detailed cutting. With the introduction of these Western style shears, Japanese people became much more aware of the possibilities in cutting cloth. Now curved patterns and even thick fabrics could be cut with ease, and Western style shears became a must for tailors and seamstresses. However, Japanese people had long been accustomed to using cutlery that, like the traditional Japanese swords, were light yet had an excellent cut. For this reason, many Japanese people felt that while the Western style shears were functionally sound, they were too heavy and cumbersome. This inspired the renowned sword forger Master Yakichi (1860-1901) to begin researching the development of unique Japanese shears which would employ the same technology used in forging Japanese swords. As a result, Master Yakichi was able to create shears similar to the Western shears, but with the lightness and excellent cut of traditional Japanese cutlery. This was the origin of the modern day Japanese shears.

Photo courtesy of Sewing-Machines.com.
Imagine my surprise when I found these shears for sale at Richard The Thread for 129$!
I love to research the history of the things I dig up! How about you?
~Justine
After moving from Los Angeles to an old farmhouse in the country with her husband and four children, Justine Abbitt (a trained fashion designer) found shopping outside the city rather uninspiring and difficult. So, she decided to get busy with her needle and thread to start making things for herself and her family. Looking to get in touch with other DIYers she started her sewing blog, Sewcountrychick, which also covers country living through an ex-urbanists perspective.