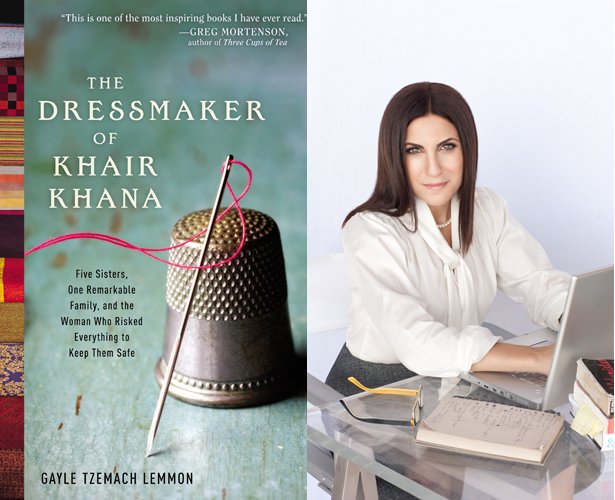 ShareThis
In 2004, political journalist Gayle Tzemach Lemmon left her ABC News post to pursue an MBA at Harvard. During this time Lemmon began researching women in conflict and post-conflict zones who were starting businesses and establishing entrepreneurial roots in their communities and through her research met Kamila Sidiqi. As a teenager in Afghanistan during the brutal Taliban rule, Sidiqi started a sewing and tailoring business in her home which not only helped her family overcome a sudden and oppressive lifestyle change, but also brought a sense of hope back to a community of women who had been mercilessly stripped of their former way of life. Lemmon tells Kamila's story in a simple, straight forward way that foregoes grandiose drama and instead focuses on the real, everyday struggles of the Sidiqi family and how they used sewing to reestablish themselves during a fearful and challenging time.

Kamila Sidiqi at her desk. Photo by Gayle Tzemach Lemmon.
When Kamila Sidiqi was a student in Kabul, training to be a teacher, she never could have anticipated how much her life would change over the next few years. With the Taliban takeover of the capital city of Afghanistan in the late 90's came a new set of rules and a way of life that would forever alter Kamila's course and her family's future.
Under the Taliban's new rule women were virtually stripped of their rights, forced out of school and work and required to be fully covered by a chadri when in public. Daily life in Kamila's home city of Khair Khana came to a sudden halt as nearly all of the women were instantly shut away in their homes and Taliban soldiers roamed the streets brutally enforcing their new code of ethics. Life was equally as uneasy for the men of Khair Khana, most of whom fled to neighboring countries to avoid being forced to fight for the Taliban or worse – imprisonment, torture and death. Kamila's hometown and other villages around Kabul went from bustling, thriving communities to near ghost towns almost overnight. Markets were empty and the streets nearly desolate as a city full of women and children were either completely unable or too afraid to leave their homes.
A few women under Taliban rule were able to find ways to continue life in a relatively normal way. Since new laws now segregated medical care for men and women, female doctors were still in demand. A handful of women ran schools out of their homes, but many were shut down for teaching subjects outside of the approved religious doctrine. Taliban guidelines kept women under a strict code when in public, however they were still free within the walls of their homes. They could laugh, socialize, be rid of their visually restrictive chadri, and carry on a somewhat normal existence. Yet, with no men around to work and unable to work themselves, the women of Afghanistan were growing increasingly desperate. They needed to find a way to help themselves in a country that no longer seemed to acknowledge their existence.
After her father and older brothers fled Khair Khana, Kamila struggled to find a solution to her family's bleak situation. She knew there was a way to bring money and opportunity to her sisters while staying within the confines of the Taliban's new laws and she found her solution in one of her older sister's favorite pastimes, sewing. Kamila and her family members set up a small sewing and tailoring workshop in their living room and with Kamila's fearless, entrepreneurial spirit and her sisters' skilled fingers soon built a solid business that brought hope back to the Sidiqi family. As word spread, women were not only turning up at the Sidiqi doorstep looking for a new dress, they were also looking for opportunities. Kamila saw the needs that sewing fulfilled for these women, not just financially but also emotionally and psychologically, and how it brought a sense of dignity and worth back to the downtrodden women around her.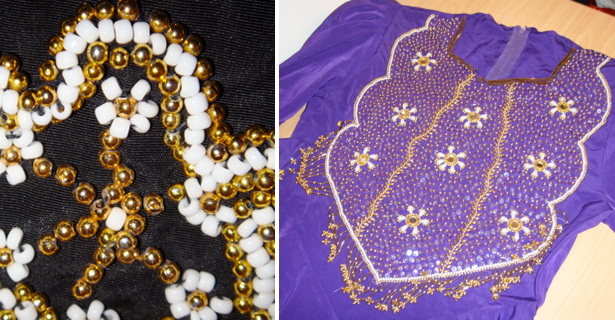 A beaded floret on a decorative vest, an elaborate Afghan dress made by Kamila and her team of dressmakers. Photos by Gayle Tzemach Lemmon.
Sporadic access to electricity and unexpected Taliban raids forced the women to work mostly by hand and in secret. Beading intricate wedding dresses, hemming pantsuits and making ensembles sans patterns, the women learned largely from Kamila's older sister, Malika, and each other. Alongside the thriving business, Kamila established a school where girls could learn to sew and eventually contribute to the business as seamstresses, embroiderers and tailors. In a time of limited means, Kamila was providing opportunities and hope to the many woman who had lost virtually everything in the midst of the Taliban's rule.
After the September 11th attacks and the American invasion of Afghanistan, Taliban forces abandoned Khair Khana and Kamila and her sisters were finally able to step out of the shadows of their chadri and retake their place in society. While it was the restrictions of the regime that had spawned Kamila's foray into sewing, the network of support and sense of community she had built through the sewing school and business remained strong within Khair Khana, enabling Kamila to work with non-profit and humanitarian organizations to bring that same spirit to other conflicted and war-torn areas.

Kamila now works with Mercy Corp helping women to establish businesses in conflict and post-conflict areas, Kamila speaking about the future of Afghanistan at the US Global Leadership Campaign in 2005.
Kamia's story is a truly inspiring one and a testament to the ingenuity and resiliency of the human spirit. Rather than succumbing to the oppression of the Taliban, Kamila found a way to create sanctuary within the oppression and in turn help the women around her find solace. Sewing is a skill that women around the world and throughout history have used to establish themselves independently. From Mary Brooks Picken, who taught women throughout the United States how to sew through her Women's Institute courses; to Coco Chanel and Jeanne Lanvin, who took Paris fashion by storm at a time when women were still largely defined as housewives; to the hundreds of thousands of women throughout the world making and selling garments, accessories and home goods today, sewing continues to be a way for us to not only assert our creativity but also to establish our sense of self and financial independence.
Tell us how sewing has helped you establish your independence, and you could win a copy of Lemmon's inspirational book for yourself! Comments must be left by 9:30 am EST on Friday, May 6th to be eligible.