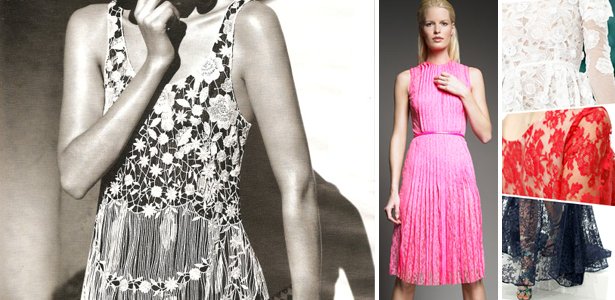 ShareThis
Lace has always been an indicator of elegance, wealth and beauty. It's first recorded use (in a very rudimentary form) was in ancient Egypt, where artists would weave colored threads into geometric designs to adorn flax cloth, while the Greeks and Romans accidentally discovered lace as a byproduct of twisting and tying the edges of their togas to keep the threads from fraying.
Lace as we know didn't show up until around the 15th century and can claim both Flanders and Italy as it's birthplace. True lace is created by looping, twisting and braiding threads separately from a backing fabric and was originally made from silk, gold or silver threads. Now lace is mostly woven from cotton or synthetic fibers and manufactured on machines rather than done by hand.
There are a variety of different laces, including needle lace, whitework (cutwork, openwork etc), bobbin lace and knotted lace (ie: macrame). When working with lace make sure to consider both quality and fiber content. Cotton/poly laces are good for sewing as the polyester gives them more strength, durability and will also keep them from yellowing with age. Be aware that nylon lace can melt if it gets too hot, while Chantilly and Guipure lace are best for embellishment.
Before you begin working, you want to make sure to properly press your lace using a pressing cloth, spray starch and an iron. You can also use waxed paper to press your lace, as it helps restore the quality. When sewing lace make sure to leave a generous seam allowance. Many people prefer to sew lace by hand, but if you use a machine it is recommended that you use a serger or a narrow zig-zag stitch with a regular machine.
Now that we've all had a brief history lesson and are ready to start working with lace, it's time to decide on a project.
Tops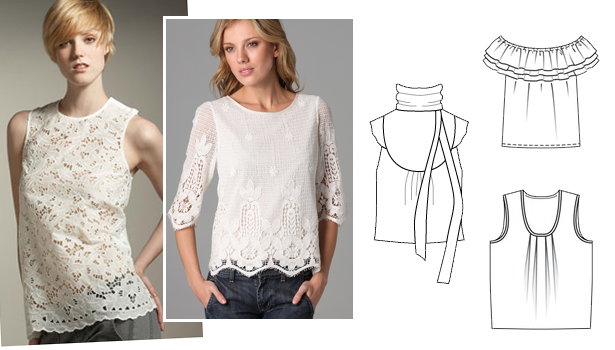 From left: tops by Stella McCartney, Beyond Vintage. Twinkle by Wenlan Blouse, Peasant Blouse, and Pleated Top patterns.
Skirts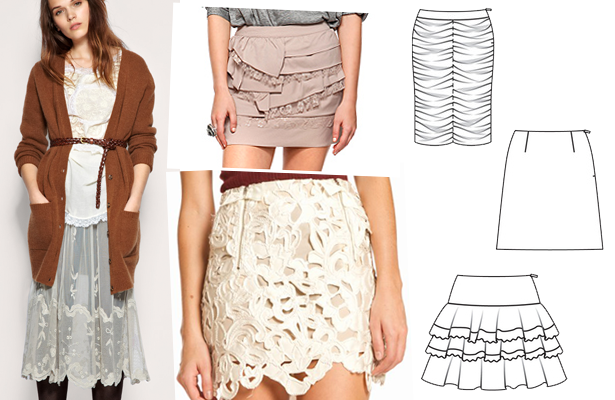 Clockwise from left: Asos, Forever 21, BurdaStyle's Draped Skirt, A-line Skirt, and Ruffle Skirt patterns, skirt by Toga.
Dresses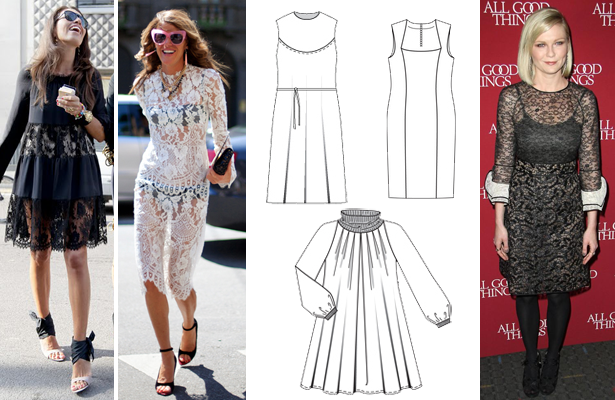 From left: Vogue Nippon's Viviana Volpicella in Moschino and Anna Dello Russo in Dolce & Gabanna. BurdaStyle's Gail, Basic Shift, and Malissa dress patterns, Kirsten Dunst in Valentino.
…and I found a few more cute dresses to inspire future lacy projects: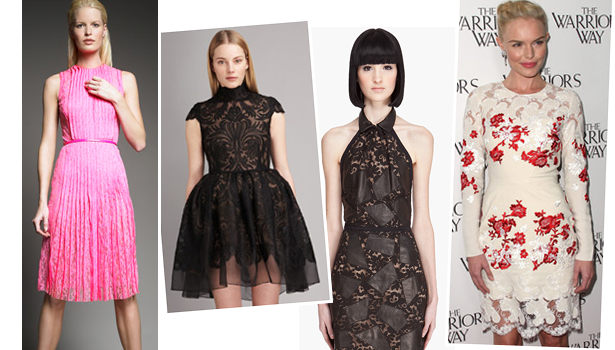 From left: Try bright lace – Christopher Kane. Or an interesting shape – Stella McCartney. Toughen up lace with leather – Phillip Lim. Embroidery and lace, there's nothing sweeter – Kate Bosworth in Erdem.
Favorites from the Runway
Proenza Schouler used acid bright Guipure lace in their Spring 2011 collection. Guipere is created when threads are embroidered on a backing fabric which is later dissolved away, leaving only the original embroidered pattern. Refreshing and very youthful.
One of my favorite young designer, Erdem Moralioglu, turned out some of the sweetest lace dresses for his Spring collection. They look almost too delicate to wear.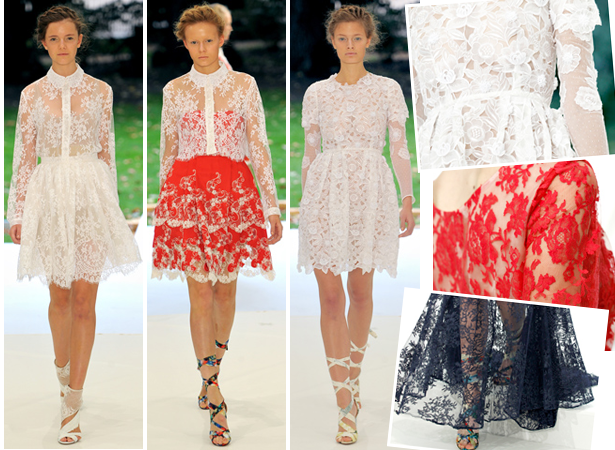 Ralph Lauren gave his signature American Wild West spin to lace – making it a bit less precious when paired with worn leather and heavy belts.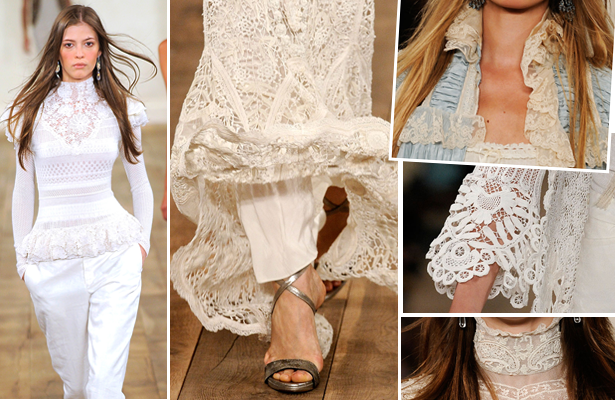 What are your favorite ways to use lace? Do you have any tips for working with and sewing lace?