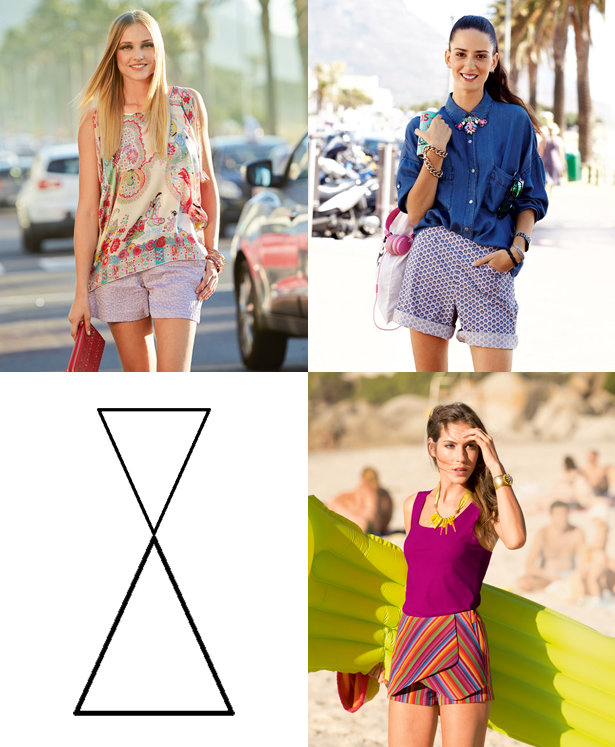 ShareThis
Find a shorts pattern that flatters so you can dress for your body type all summer long. You can maximize curves or hide your least favorite areas with the right pattern and print.
Hourglass
Hourglass figures are easy to covet, but fitting a large hip to waist ratio can be tricky. Low rise styles are likely to gap and fit poorly. Spotlight your tiny waist and avoid fitting difficulties with high waisted styles.
Call attention to your slim waist with a shorts pattern that has detail at the top. Try the Shorts with Bow for an evening out or the Sailor Shorts with a vintage blouse.
Straight/Rectangle
A shorts pattern with pleats, patch pockets, or a detailed waistband works well for a straight figure. You can pull off styles with more volume! Look for construction details that add shape and structure at the hip. You can also use high waisted silhouettes to create the illusion of more curves.
The Tonia Shorts are pleated at the waist and cuff, perfect for long, lean figures. Go for a shorter hem that still adds shape with the Pleated Shorts. Try the Blossom Shorts with a cute side tie for an easier pick.
Fuller Hips
Dark colors and A-line silhouettes draw attention to your waist and legs and away from areas you want to hide. If you're feeling shy, pair your shorts with a top that has a fun neckline, collar treatment, or print to draw the eye upward. Lower rises will fit the best.
The mid rise Flared Shorts are flattering on a variety of figures, but the slightly flared leg is especially forgiving for wider hips. The Shorts with Pockets sit an inch below the waist and have a smooth, minimalist look.
Petite
Shorties can get away with micro-mini hemlines, so take advantage of your small height and show off those legs! Shorter hemlines make your legs look longer. Add a pair of wedges or heels to extend your legs even more.
The Wrap Shorts make a statement and lengthen legs with a tiny hemline. Plus, wearing a bold print in a pair of shorts won't overwhelm your small frame like a printed dress. The simple Shorts Shorts are a petite girl's best friend.
Fuller Stomach
Mid and low rise cuts don't spotlight your stomach like high waisted shorts do. Styles with wider waistbands are more likely to lie flat and give a smoother look. And don't be afraid of prints… they'll draw the eye away from the midsection and toward your legs. Just keep the top simple with a drapey cotton tee or blouse.
The Cuffed Shorts and Rolled Up Shorts don't have a waistband, so they'll lay smoothly against the body. These styles are made from the same pattern PDF, so you can try both lengths and see which one suits your figure the best.
Of course, any dress for your body type suggestions are tips, not rules. The right shorts pattern will help spotlight or conceal certain areas, but feel empowered to rock any trend or hemline you dare!
Happy sewing!