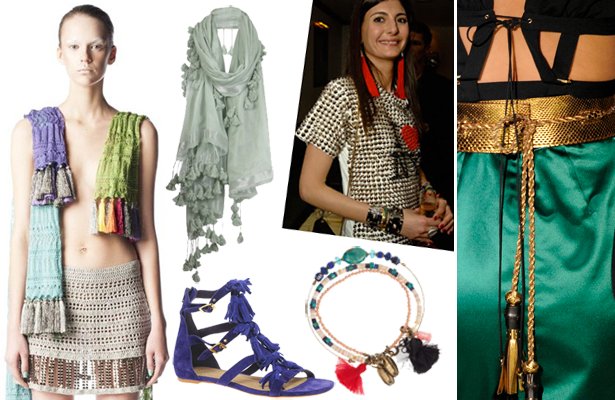 ShareThis
One trend I haven't been able to ignore this Spring is the use of tassels on everything from belts and bags to hemlines and necklines. Once known as a symbol of luxury, tassels were originally used to distinguish rank in both military and religious orders. During the 16th and 17th centuries, tassel making – or passementerie as it was known in France, was a booming business with people clamoring for the luxury accessory which represented both wealth and standing within Parisian society.
Although the process of making tassels in our modern age is decidedly less time consuming, the adornment still holds a certain air of opulence in both decor and fashion. Click through to see some of my favorite uses of tassels this Spring and even a few ways you can add this embellishment to your garment projects.
Tassels are usually an afterthought – an embellishment to, rather than the focal point, of a piece – (the Alberta Ferretti bag in this story is an exception – as are the pieces from fantastic knitwear designer Laura Theiss), so you tend to find them on accessories like belts and hanging off of leather or cloth handbags. This season, tassels played a key role in the Pucci collection where designer Peter Dundas used them as trimming on scarves and dresses, creating one killer cocktail dress that is a luxe bohemian dream. Tassels have also been popping up on footwear – for example at Dior where John Galliano used them in conjunction with rope to make lace up sandals teetering on sky-high heels.
Check out a few other ways tassels are being used on garments, accessories, jewelry and handbags. What do you think about the tassel trend?

Clockwise from left: Vintage obi belt with tassels, Antik Batik, Gucci – Spring 2011 (2 photos), belt by B Low, Paul & Joe – Spring 2011, Gucci – Spring 2011.

From left: Elle Macpherson in a tassel scarf, Pucci Spring 2011, scarves from All Saints, a Dries Van Noten scarf on the street, more Pucci Spring 2011.

Clockwise from left: Gucci, Sonia Rykiel and Pucci – Spring 2011, Wendy Nichol x Vanderhurd, Prada, Alberta Ferretti, Sara Battaglia.

Clockwise from top left: Shoes from ASOS, bracelets by Krystal Sasso, Vena Cava necklace, Giovanna Battaglia and Natalie Portman both wearing tassel earrings, necklace from Anthropologie, bracelets by Isabel Marant, shoes from Office, shoes on the Dior runway – Spring 2011.

Clockwise from left: Laura Thiess – Spring 2011 (2 photos), Emilio Pucci cocktail dress and a look from the Spring 2011 collection, blouse from See by Chloe, caftan by Mara Hoffman.
Ready to add tassels to your own projects? Here are a few ideas to get you started…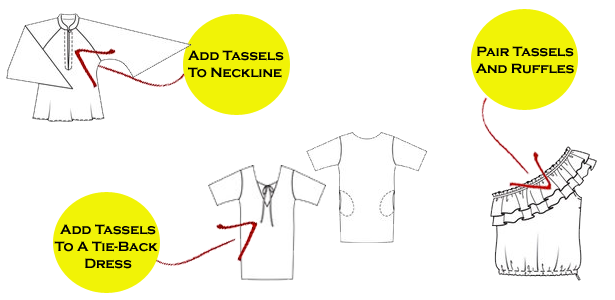 Patterns from left: Tunic Blouse with Bat Sleeves, Tie Back Shift Dress and One Shoulder Blouse.
And if you want to make your own, member geneviever has a great tutorial for whipping up an easy leather tassel you can add to belts, handbags and more!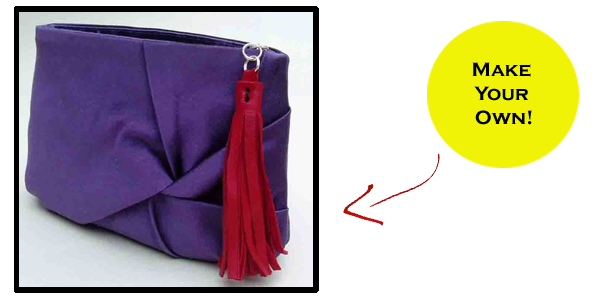 What are your thoughts on tassels? Do you think this trend oozes luxury or screams of tackiness?
Photos courtesy of Style.com, shopstyle and Laura Theiss