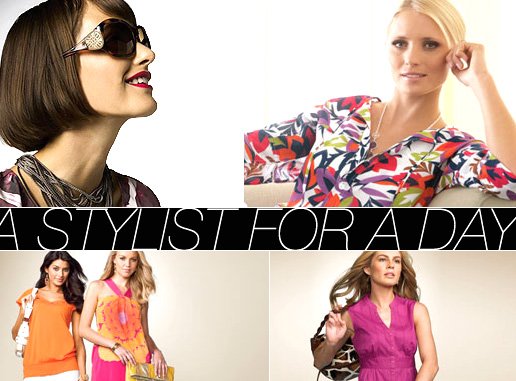 ShareThis
Recently I joined forces with my stylist friend and visionaire Elissa Raymond to assist her in a Manhattan based photo-shoot for Kohls, an American department store similar to Target who carries licensed lines like Simply Vera & ELLE.
Has anyone ever worked as a stylist? I've styled my own shoots and have done some editorial but I had never worked on such a large scale production. Our base was an enormous RV parked outside of Pastis, an incredibly beautiful & infamous restaurant in the meatpacking district of Manhattan. Elissa has the back of the RV; there were racks to hang the looks we'd be shooting and couches and tables for shoes & accessories. Elissa had heaps of accessories; gold, silver, brass chains, sunglasses, clear glasses, bracelets, stockings, shoes, boots, hats, scarves galore. Now wouldn't it be fun to scour the Earth for those things on someone else's budget?!
Every stylist has a "book", and when I arrived (ahem, at 4:30 a.m.) to meet everyone, Elissa had me take a look. Inside are spec sheets and snaps of the approved looks to be shot with editor's notes. The marketing team at Kohls adds notes in the margins like "make sure to show lapels and cuff details" and "no leggings with this" or "show the pant's cuffs" and it's Elissa's job to follow suit. Sometimes she does and sometimes the notes sound as if they are coming from a man in a suit in an office in Milwaukee- not a style guru.
The actual shoot consists of a dance between photographer, model, stylist, guy with fan, and hair & make-up. Around her waist, or in our case, my hands, as Elissa thinks the belt ruins her look, a stylist has clips, pins, double-stick tape, snips. A few snaps then "stylist in!" a tug here, flatten a wrinkle there, pin that collar down, clip the back, make it more snug, while hair is acting against nature; trying to tame stray hairs with spray and gloss. The photographer is lucky if she gets 5 shots in before these adjustments need to be made.
All in all I enjoyed the day. The locality made it simple, most of the time they are in a studio in Milwaukee which to me sounds a bit tough. A stylist needs to be in pretty good shape and be on her feet all day. Elissa miraculously can wear her cute, pointy Italian leather lace-up boots without complaint. And she will never be caught dead wearing knee pads.