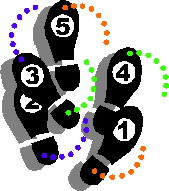 ShareThis
STEP TO IT
Here, in a nutshell, is the history of my career as a dancer. When I was four, I told my mom I wanted to be a ballerina. She signed me up for a class, bought me a leotard, a pair of Capezios, and a pink tutu. Returning to the studio after the very first class, the instructor informed her that I was a mite "energetic" for ballet, i.e., that I'd flipped the bird to the barre and had spent the previous hour twirling around the room to my own whimsical choreo. Mom rescued her deposit at the studio by enrolling me in baton twirling, and the pink tutu went on to fame, in our house, as the centerpiece of a chase game called "The Lady with the Pink Hair!!!"
That's it. I've never been a dancer. All my elementary school friends took tap, or jazz, or clogging classes; I read, played soccer, and got my performance kicks by staging elaborate solo shows of "West Side Story" in our living room. By the time we moved to Florida, in junior high, the die was cast: I was destined to be a girl who hovered on a knife's edge between tomboy and nerd. In other words, I was destined to be indie. I discovered the college radio station in eighth grade and never looked back. Later on in high school, when my more exuberant friends would drag me out to raves, or to disco nights at clubs downtown where we'd nervously flash our fake IDs, I'd stick to the sidelines, hungry to return to the New Wave mopefest nightly parlayed by the DJs at Rollins College. I recently rediscovered a mix tape I made in that era, titled "Summer of Suck." Anyone who found that tape in a pile at Goodwill would have to assume that its maker was male, gay and in the closet. Lots of Morrissey. Lots of Cure.
Looking back, I see my indie rock fetish for what it was: A posture, a way of faking cool because I wasn't. I'd hug the corners at the popular kid parties, rolling my eyes at the crowd, and saving my best sarcastic jibes for Ashley, the truly cool girl who was my best friend in high school and the person who got me into those parties in the first place. Don't get me wrong: I loved the music. I'm fanatical about music to this day, and there are plenty of songs I had on old mix tapes that have lasted long enough in my love to show up on my iPod. And my high school aloofness saved me from a lot of pain, trashy trouble less reticent girls got into, drug problems and bad grades and one night stands and other rep-destroying dramas. But as much as my indie girl persona was a positive creation, an identity I adopted out of a genuine passion for the rock, it was also a negative one, a way of hiding. I lived in constant fear of making a fool of myself. The mannerisms of indie rock, its seen-it-all, know-it-all, over-it-all froideur, provided me with a perfect excuse to stay out of sight in public.
And never was the distance between my heart and my head greater than when it came to dancing. The me that had spun around ballet class lived on inside, and though I always wanted to dance, I never let myself. People might see me; I might be no good; I might be mocked. The dance floor looked like a gantlet. That was then. Now, dancing is back, and even the indie kids are learning to get down on it, courtesy of bands with guitars that like pogoing beats and twisting up loops on their laptops. Judging by the fervor for rave redux coming out of London, the ass-shaking wave hasn't even begun to crest. Thank god: The hipsters need dancing. There's a fascism of cool plaguing New York City right now, a set of spoken and unspoken rules about what to wear, what to listen to, what to watch and, crucially, what to think, that is as uptight in its way as the guidelines for membership at any blueblood country club. I visit Williamsburg, home base for this crowd, and the whole scene seems overwhelmed by a kind of palpable nervousness, everything bathed in irony, everyone afraid to care.
It's past time to get over this attitude. The nice thing about growing up is that eventually, ideally, you surrender the adolescent fear that people might see you for who you are. One day, you look in the mirror, and you think it might be OK to stop being cool and stand out from the crowd. You kiss your boyfriend in public, cry when life moves you, and you head out onto the dance floor, and you dance.
This week, BurdaStyle gets its groove on.