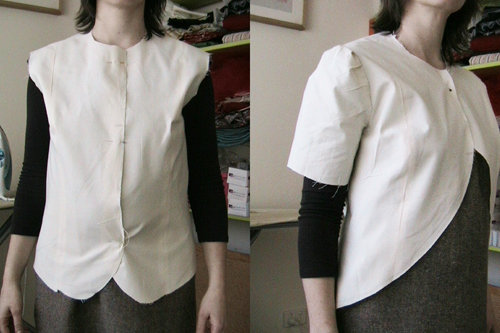 ShareThis
Thank you for all the lovely compliments for my green Celestina alteration. And thanks to Theoreticgal for bringing to my attention that I need to lengthen the centre front hem on future Celestina's I make. The reason being that once my bump starts getting bigger, the hem will lift up, how could I forget such a thing?
This week I worked on sewing up a muslin of the Steffi jacket. The reason I made a muslin first is because I've only ever made one other jacket, and that's still sitting unfinished in a bag somewhere in my sewing room. I wanted to be sure I was making the right alterations before cutting into some nice fabric.
To start I made the body of the jacket as the pattern asks. I then tried it on pinning it in place and drawing the alterations directly onto the muslin. I curved the front out from the bust to the bottom side hem which I then cut. I used the muslin to mark these alterations directly onto the paper pattern. My next alteration were the sleeves. I shortened the paper pattern before laying it onto the fabric and cutting out. I originally wanted cap sleeves but decided to make them slightly longer so they will cover any short sleeves I may wear underneath. My next challenge is to draw a new trimming to match the new front curves. Once I've done this I'll start on my 'real' jacket. I've still not decided on a fabric to use, I have a few cottons in my stash do you think it would work with cotton or is it not stiff enough? Next week I shall have the finished garment to show you along with a how-to. Maybe I'll even put in a lining using Benedikta's fabulous tutorial!
I'm thinking of continuing with the Steffi jacket the following week and giving it an entirely different alteration, maybe a bolero look and longer sleeves. Then I'll start working on Jane. I plan to alter the waistband of the shorts to accommodate my bump and for later the top to allow for breastfeeding.
Any suggestions for either my Steffi or Jane alterations are encouraged. How can I spice up my bolero Steffi? Any clue how I can change the Janetop into a breastfeeding friendly top? Answers on a postcard in the comments section please!