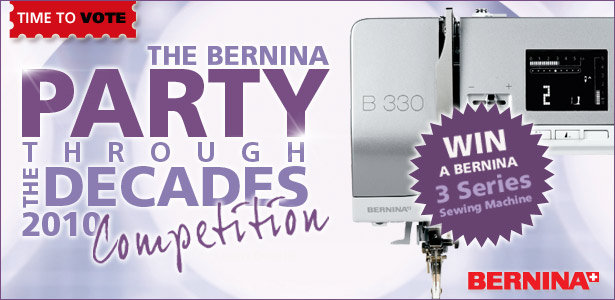 ShareThis
Who's ready to party!? You guys really showed your skills for this competition and we are so thrilled to share the top 50 entries in our Party Through the Decades Competition presented by BERNINA 3 Series! Congratulations to everyone who participated! It was really difficult for us to narrow it down. Check out the slide show of the top 50 garments and the inspiration behind them and vote for your favorite.
Everyone has an event they need a party outfit for this season, so after you've made your pick we want to know: Which entry did you chose and what event you would wear that garment to? Leave your comments below!
We can't wait to see which garments you chose! Voting closes at 4 pm EST on Wednesday December 8th, so check out the final entries and pick your favorite. Remember, you can't vote for the same look twice, but you can vote for as many different looks as you like!
Step up to a machine that won't hold you back: The BERNINA 3 Series. The affordable new line combines superior performance, outstanding durability, and incredible Swiss engineering.