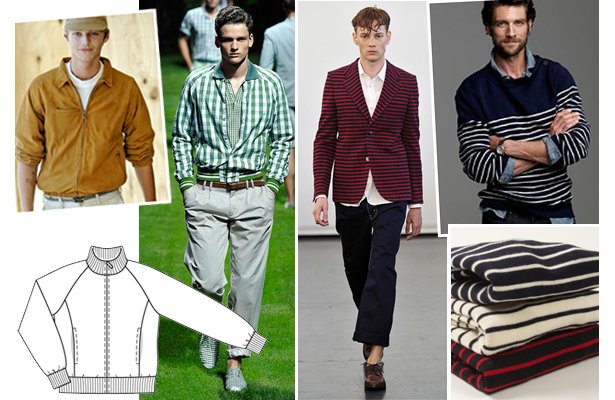 ShareThis
Yesterday our resident Menswear expert (and newly minted BurdaStyle contributor) Peter showed you the tools you need to get started sewing menswear. He also offered up a great first project suggestion – the caftan. While you're getting your bearings using your tailors hams and point pressers, get inspired for future projects by checking out some of my favorite menswear finds from the Spring 2011 shows in Milan.
Neon Brights
While I suggested injecting color into your Fall 2011 wardrobes, get a jump start now by trying out some of your projects in acid brights. Lemon yellow, turquoise, orange and electric blue are all fun options we saw on the runways and Summer is the perfect time to give these eye-popping hues a spin. Remember boys, color is your friend.

From left: Jil Sander (2 looks), Giorgio Armani, Calvin Klein Collection
Make it: Try the Pete Tee in a neon color – an easy way to work the trend without too much commitment.
Rock the Shorts Suit
Thom Browne is the man most closely associated with the "short-pant" trend in menswear. His impeccably tailored yet quirky collections (both for his own label and for Moncler Gamme Bleu) are always highly anticipated during the men's shows in Milan. His shorts suits for Spring were my favorite variation on the look this season and I hope to see some boys brave enough to sport this on the streets – socks optional.

All looks by Thom Browne
Other designers played with this trend as well, but in a bit slouchier, more casual way.

From left: Gant by Michael Bastian, Miharayasuhiro, Dries Van Noten
Heavy Cargo
I envy boys for many reasons – one of them being that you all can usually shove everything you need in your pockets and be done. No handbags to keep track of or try to match to your outfits. For Spring designers gave you boys even more options for personal storage, putting cargo pockets on button-ups, jackets and pants. However if I may ask, please refrain from wearing any of the following with a pair of Teva sandals or a hemp necklace.

Top to botton: Burberry, Hermes, Louis Vuitton. From left: Moncler, Miharayasuhiro, Alexander McQueen
Stripe it Rich
Stripes are a huge trend no matter what your gender. The resurgence in the nautical/French New Wave aesthetic has been on the radar for a few seasons now and is proving to be an enduring classic.

From left: Prada, Junya Watanabe (2 looks), sweaters by St. James
For a bolder look, try your stripes in brighter hues. Take inspiration from a pack of one of my childhood favorites, Fruit Stripe Gum!

From left: Jil Sander (2 looks), Prada
The Khaki Suit
Summer is no time to be sporting head-to-toe black. Lighten up and try out that suit in a khaki color, it's a great way to give more of a laid back air to the traditional suit and tie.

From left: Canali, Hermes, Etro, Prada
Make it with our Stinchcomb Jacket and Jochen Trouser patterns.
Take Ivy
Published in the late 1960's, forward thinking Japanese photographer Teruyoshi Hayashida's book Take Ivy is generally considered the benchmark in the explosion of "Ivy Style" among trendy Japanese students. Out of print until just last year, it sold on Ebay for close to $1,000 before it was announced that the book would be put back in print for the moderate price of $20.
Northeastern collegiate style is something I've always been drawn to – hence the reason Love Story is one of my favorite movies. There's a youthful innocence about it that is the essence of the "All-American" lifestyle.

From left: The cover of "Take Ivy", Miharayasuhiro, Band of Outsiders, Gant by Michael Bastian
Photos from Take Ivy

Sport It
As much as I love guys in progressive, forward thinking styles, I also love a guy in a good "guys" outfit. Sometimes just a pair of great fitting jeans, a perfectly broken-in tee and a baseball jacket are as much of a sartorial turn on as a razor sharp Raf Simons suit.

Top to botton: Patrik Ervell, BurdaStyle's Amin pattern. From left: D&G, Dries Van Noten, Trussardi 1911
What projects are you working on for Spring? Any looks you're excited to wear this season?