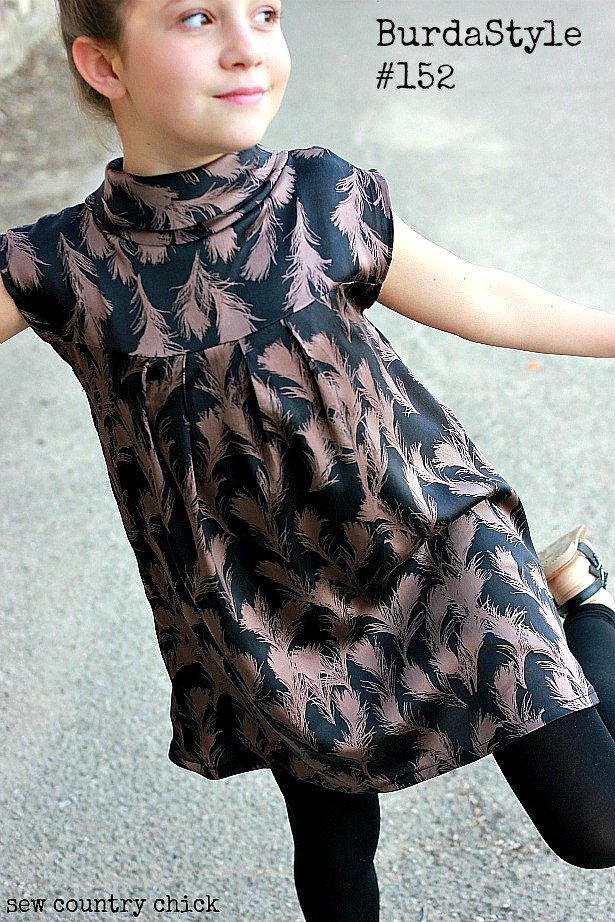 ShareThis
Justine Abbitt from Sew Country Chick, and winner of Amy Barickman's Design Challenge for her Patchy Bias Dress, writes for us today about sewing her daughter a lovely new dress!
Hi, I'm Justine from the blog Sew Country Chick, where I sew and craft for myself and my three daughters. I'm going to share a dress I made and also my spring pattern picks for kids with the BurdaStyle community.
This is my version of pattern #152 from burda style magazine's November 2012 issue, which is a pleated sleeveless mini-dress with a yoke and neckband. I used the downloadable pattern available here from the BurdaStyle pattern store and printed it out, which is the method I prefer since burda style magazines are hard to find in California.
At age ten, my daughter Lily is getting to the point where a lot of the patterns out there are looking too babyish for her. One of the reasons I love BurdaStyle kids' patterns is because they are fashion-forward and current, yet age appropriate. Lily likes to go through the website and pick out fashionable styles for me to make for her. It's a fun collaboration.
I actually have five children – two who are grown and the youngest only three – so I have been sewing for children for quite awhile! And when one of my kids' friends compliments them on something I made for them, it is always still so rewarding.
This simple shift dress is very chic, yet super comfy, for an older girl. I sewed it up in a feather print silk charmeuse that I bought on one of my trips to the Los Angeles garment district. This pattern was really quick to sew up. I did make a modification to the pattern at the neckline by making the neckband wider and cutting it on the bias to create a nice drape.
Some mothers I know online who sew for their kids are nervous about using more luxurious fabrics like silk. My advice is, don't be nervous when sewing with silk for children. They love the feel of it and there is always OxiClean! If you are going to take the time to make a handmade garment, I think you should use the best fabric you are comfortable investing in. I love the feel of silk in my hands.
So, are you getting ready for your kids' spring sewing yet? The following are a few of my BurdaStyle patterns picks for fashionable kids' sewing this spring. I hope I have time to make a few of them!
From top left clockwise: Gathered Dress, Peter Pan Dress, A-Line Dress, and the Boy's Leather Jacket.
From top left clockwise: Pleated Skirt and Legacy Jacket, Suspender Pants, Knit Pullover, Crop Top and Elasticated Trousers.
Thank you for having me Burdastyle! Stop by Sew Country Chick sometime and say hi!