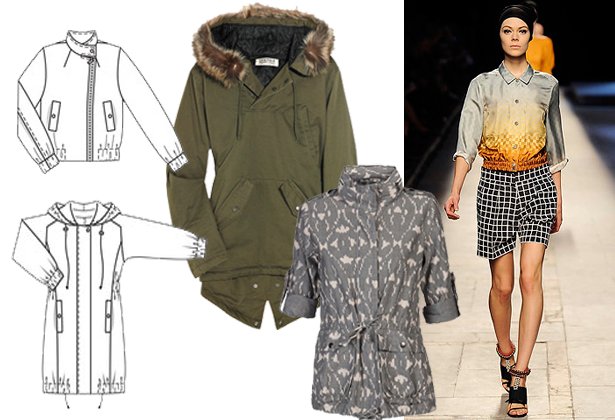 ShareThis
At first glance sports and fashion don't exactly seem to go hand-in-hand, although with tennis players designing their own uniforms and Olympic champions posing for luxury advertisements, the lines do seem to be blurring a bit more, don't they? While I'm pretty certain the world could do with less of the design talents of Serena Williams, it is interesting to see designers take influence from sports and translate the casual, technical aspects in a more high-end way. Check out some of my favorite sporty-chic pieces and patterns to help translate the look into your wardrobe.
THE SWEAT PANT: The most poorly overused piece of causal sportswear is indeed the sweat pant. Thanks to Juicy Couture and Hollywood starlets too lazy to put on a pair of actual pants, the look was adopted as "fashionable" during the mid 00's. Fortunately designers have stepped in over the past few seasons and shown us that drawstring pants can indeed be chic if they are in the right cut, material and not worn tucked into an awful pair of furry Eskimo boots.


Left to right: Alexander Wang, Proenza Schouler, Isabel Marant, BurdaStyle's Harem Trousers with Side Tie and Corinne Pant.
THE LEGGING: Another widely abused sport-inspired piece is the legging. We've seen these babies go from runner's standby to functional wear-under-dresses-to-keep-warm item to all out leggings-as-pants assault (jeggings anyone?). However, moto-inspired leather panels and zipper pockets make this version look more like substantial pants than flimsy cotton tights. I would still recommend a shirt that covers your bum though.
THE CARGO SKIRT: While no one can argue against the functionality of cargo pockets, one wouldn't exactly call them fashionable. Yet on a cute skirt the look is more utility-chic than crunchy adventurer.


Left to right: Rag & Bone's leather panel Moto Leggings, BurdaStyle's Carol Leggings Patterns, chic in a cargo skirt and BurdaStyle's Skirt with Stitching Pattern.
THE SHORT: Being revived in silks, wools and sequins, shorts have seen a resurgence in recent seasons and their dressier translations have taken these summer staples from backyard BBQ to high-fashion. While athletic shorts are still a bit of a risky fashion venture, when balanced correctly (expertly pulled off here by Marie Claire Accessories Editor Taylor Tomasi Hill) the look creates a fun, casual juxtaposition.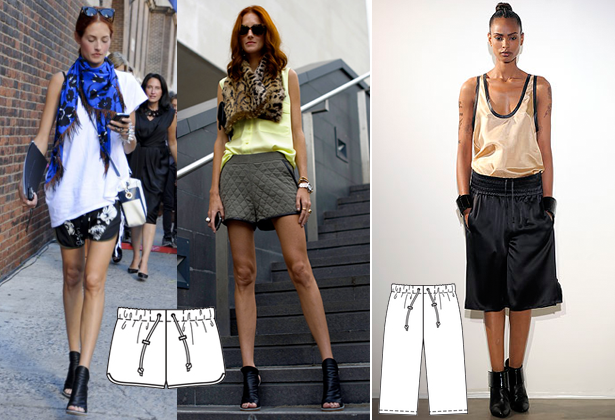 Left to right: Marie Claire Accessories Editor Taylor Tomasi Hill, BurdaStyle's Drawstring Shorts Pattern and Bermuda Shorts Pattern, a look from Kris van Assche's Spring 2009 collection.
THE JUMPSUIT: Who doesn't need one less thing to worry about in the morning? Pulling on a jumpsuit saves you the time of stressing over which top to wear with what skirt, and while wearing a onesie might evoke unwanted memories from your childhood, modern cuts and fabrics make these one-pieces so much more fashionable than what our mothers were forcing us to wear in Kindergarten.
THE HOODIE: It would be hard to ignore the hoodie explosion of the last few years, but rest assured there are chic ways to wear a hooded sweatshirt. Then again, a tailored blazer and leopard heels could make a potato sack look like a cute top.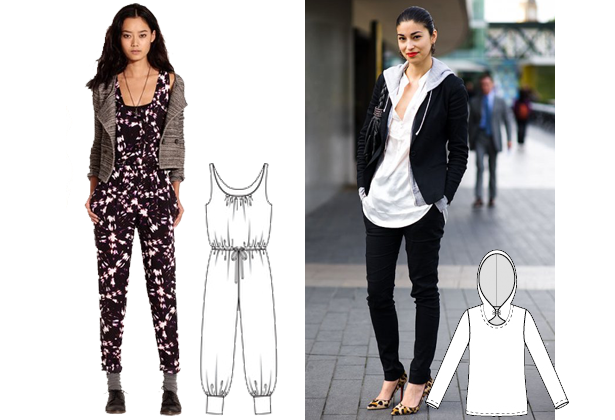 Left to right: Silk jumpsuit from Madewell, BurdaStyle's Jumpsuit Pattern, walking the line between dressy and casual during Paris Fashion Week, BurdaStyle's Lydia Hoodie Pattern.
THE JACKET: Jackets are probably the easiest way to pull off a sporty look without appearing as though you're literally headed for the court. From windbreakers to parkas, there are tons of options out there for jackets that are both fashionable and functional (the ultimate marriage in my opinion).


Left to right: BurdaStyle's Blouson Jacket and Hooded Parka patterns, a parka from Elizabeth and James, Obey's lightweight jacket and a blouson jacket on the runway at Dries Van Noten..