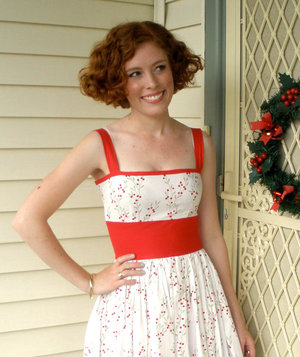 1. Where are you from and/or where do you live?
I live in the suburbs of Sydney, Australia. I am in my final year of studying Industrial Design and work at a fabric store part-time.
2. How did you start sewing? What's your favorite project in your BurdaStyle studio?
I was taught to sew by my grandmother. She wanted me to learn to sew by hand before trusting me with her sewing machine and so I hand sewed a Goldilocks doll and dress with her help at the age of seven. I then spent a great deal of my childhood making clothes and soft furnishings for my dolls. Since starting university, discovering the wonders of three month summer holidays and getting my childhood 'dream job' working at Spotlight (a fabric chain here), I practically sew everything I wear. At the moment my Hey Now and Christmas Dresses are my favourite projects, mainly because it is the season for pretty party dresses!