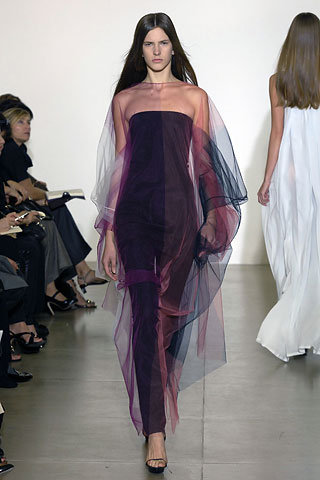 ShareThis
This was a season of curious looks. From Marc Jacobs' "too small" shoes and front-loaded heels, through the unraveled goth on Olivier Theyskens' Nina Ricci runway, to Chanel's stars 'n' stripes-denim collection, designers were testing out a broad array of (sometimes questionable) ideas for next Spring. In that context, the prevalence of sheer materials hardly merits a raised eyebrow. But then again, sheers were one of only a few big trends this season, and of those, easily the strangest. The very prevalence of see-through silks and chiffons demands its close inspection.
So: What's up with sheers? The first inklings of the trend came along early in New York, as stylists again and again deployed much-reviled sheer black hosiery. Transparency's first standout moment happened at Marc, where his deshabille theme, referenced in haphazard pajama dressing and visible bra straps, made its biggest statement with all but invisible dresses revealing the lingerie beneath. (Needless to say, the lingerie itself was key to the look.) Prada augmented the trend in Milan, echoing Marc's boudoir looks, while adding some Orientalist flair; the item from the show sure to gain the most traction come press time was Miuccia's see-through pajama pant, worn below tunic-style tops and mini-dresses. But sheers received their most directional outing at Raf Simons' show for Jil Sander, where models were all but cocooned in multi-color wisps of fabric. Numerous shows in Paris served to confirm the trend.
This critic, for one, is a bit stymied. Were designers sick of the last few seasons' ping pong match between loose volume and ultra-tight, body-conscious dressing, and seeking out a third way? Or was this merely some typical fashion reactionism, responding to an exceptionally dark, finished and heavy Fall/Winter season by showing styles weightless and a little off? There seems to be more to this trend than that, something sticky and strange and fetishistic relating to the always-complex relationship between carnality and virginity, sex and romance, nudity and dress. The designers are playing a game, and I can't put my finger on the rules yet, but I suspect that the prevalence of sheers is a rallying cry around a new perversion.
More to the point – as they say in retail – does this trend have legs? Will women be swathing themselves, Simons-style, in ribbons of gossamer chiffon? Will they dare to go bare, with only some fine-spun, naked silk between the elements and their midriffs? Or (this seems most likely) will we be seeing a major uptick in sales of sheer black pantyhose? Comments welcome…