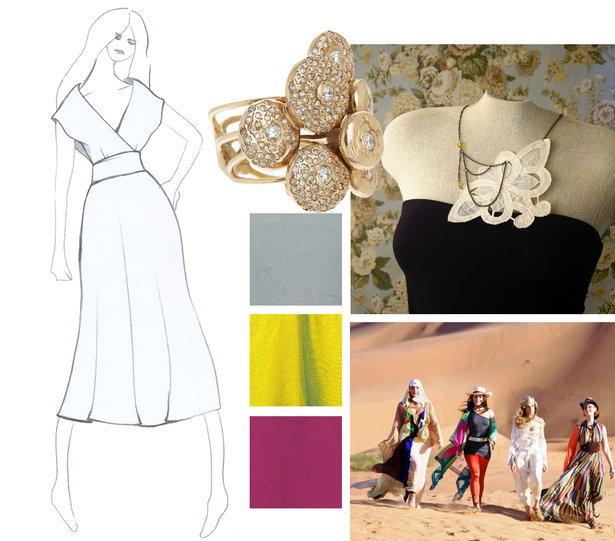 ShareThis
My friend Elyse is going to the Sex And The City 2 movie premier on May 24th and I am creating a dress for her.
Elyse's younger sister assists Sex And The City director Michael Patrick King, and asked Elyse along to the premier in New York city. Elyse recently had a beautiful baby girl named Lola (cue the Kinks' song) so she's seeking a flattering fit for her postpartum body. She loves deep v-necks and has found a gorgeous antique lace necklace she'd possibly like to incorporate into her emsemble.

Elyse & I looked over some dress patterns on BurdaStyle (as I want to turn this into a project available for YOU too) and we decided on using the Jenny Dress as our primary pattern block. I am basing Elyse's size off of the BurdaStyle size chart bust and waist measurements as these areas will be the most snug. I'm going to begin by lengthening the skirt pattern to reach about mid-calf for a 1930s Hollywood glamour feel. We decided on hammered silk as the primary fabric. Hammered silk is my all time favorite fabric, I love the muted sheen and soft, bumpy texture. It's elegant enough to wear to an evening event and so comfortable. Next I'm going to add some volume to the skirt, as to create tiny gathers at the waistband to hide the tummy a bit. We're having our first fitting in muslin this weekend and I'll keep you posted as to the outcome!