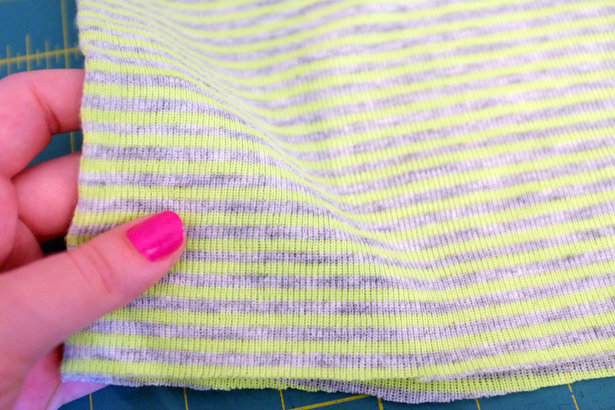 ShareThis
Don't know how to knit, but still want to make yourself a sweater? These days fabric stores carry a wonderful selection of sweater knits, so you can create your own cut-and-sew knit garment. Check out my knit project, and some sewing techniques I used.
I purchased this lightweight interlock sweater fabric in neon green and grey. I love the stripes in the fabric, it makes a really 'iconic' sweater. I used our Jersey Top pattern to make my sweater. Since my sweater fabric was pretty lightweight, I didn't want to use a cardigan or baggy pattern. For the inserts in the pattern I used some leftover black mesh fabric from my sultry Little Black Dress project. Using little scrap pieces of fabric in a new garment is such a great feeling!
The only pattern alteration I did was make the hemline a 'hi-lo' style. So I shortened the center front by 1 1/2".
This fabric came in a 'tube' format, so there was two folds on the fabric. I find these folds to be very permanent so I never use them for my center front or center back fold line. I find it easy to cut sweater knits with a rotary mat and blade. It really makes the edges smooth and with no 'jags' from scissors. I wanted to add a band on the neckline (like self ribbing). So I cut a long band 2 1/2" wide, with results in a 1" finished width band.
For my top I used my serger to do an overlock seam finish. But you can use any of the above 'stretch' stitches.
I assembled my front top and sewed ONE of the shoulder seam to the back. Then I folded my neck band in half widthwise and serged/sewed the edges to my neckline seam from one shoulder opening to the other. Then I sewed the remaining shoulder seam, making sure to sew the neck band edges together (and securing my serging). I then attached my sleeves and sewed up my side side seams from sleeve hem to top hem.
You could also finish the hem and sleeve hem with bands like the neckline, but I used my coverstitch machine to hem these edges. A Zig zag or stretch stitch could also work.
Here is my completed top! I love the mesh inserts and the 'cozy' nature of the fabric, I am going to get a lot of wear out of it this fall and winter. It is a great piece for a casual outing, or even lounging around the house (in style). Try making one yourself, this top only took me about 2 hours!
Here are some other patterns that would work great sewn in sweater knit fabrics. The Chill Dress has a relaxed silhouette that would suit any fuzzy knit. Or how about our Esther Cardigan, it would work great in those heavier fabrics. I didn't forget about the boys! Everyone need a great sweater, and our Andrew Sweater is the perfect pattern.
Are you going to try sewing with sweater knits this season?
- Meg