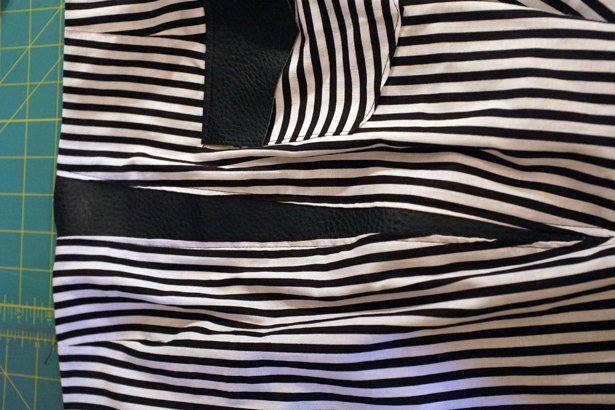 ShareThis
Check out this great tutorial on how to widen the waistline of your garment! This insert technique will work on pants, skirt, and even form fitting tops. When you are finished no one will ever know, because it looks so much like a design detail.
I recently made a pair of pants with the waist facing sewed in and everything, but they were too small on my waist! Sure I tried them on a couple times in my sewing process, but when I was 100% done sewing I eagerly zipped them up and oh no the waist was too tight. This can happen for several reasons; you didn't preshrink your fabric, you didn't sew exactly on the seamline (overestimating the seam allowance), or simply just cut the wrong size pattern (oops). Here I will show you how I inserted a piece of faux leather into the waist so it looked like a design detail. I love my perfect fitting and edgy result.
This technique will only work on a garment with no side seam pockets, or zippers.
First I measured 13" along my pant side seam (this measurement can vary depending on how much width you need to add, I was adding only 1 1/2" at the waistline). Put a pin at this marking.
I flipped up my waist facing and stitch ripped down my side seam to my pin. Then I took my pants to the sewing machine and backstitched to secure the end of the seam.
I gave my pants' seam allowance another press under the steam iron to keep them pressed to the wrong side.
Now I took my piece of faux leather and drafted my inserts. I drew a line 13" long (or as long as you measured down the side seam). I wanted to add 1 1/5" width to each side seam at my waist so on either side of each line I marked 3/4". Then I connected these marks with the end point. From there I added 1/2" seam allowance to all the edges except the waistline.
I cut the pieces out and then with my tracing wheel and ruler I marked the 1/2" seam line on the inserts. This makes it really easy to match up when sewing into the side seams. When working with faux leather you don't need to use tracing paper! The plush nature of the fabric will allow the tracing wheel to just mark small dots.
I sewed a stitching line at the top edge of each insert (this is the top of the waistline).
Now I carefully matched up the folds of my pants' side seam with the seamline of my inserts. If you have waist facing don't start the insert at their bottom edge, instead you need to match up the top of the insert with your finished waistline. I started sewing the side seam to the insert about 1/8" away from the fold all around, and pivoted at the bottom point of my insert.
To finish it off, I folded back the facings and hand stitched to the allowances of my insert. Now I have a cool detail on my pants that makes them look edgy and fit perfectly!
I used this technique on a pair of slim fitting pants, but you can even intentionally incorporate this detail into your garment! You just need to alter the waist of your pattern before cutting out. Here are some patterns I think would look great with this added leather panel (whether you meant to or not). You could make our Skinny Jeans and add a little leather to the top, I just love denim and leather. Or why not add an extra panel to the Princess Seam Skirt, this technique will work just as nice on a tight skirt. Maybe you made our Slender Trousers and they are a bit to slender in the thighs and waist, just add a panel!
I know I will be searching in my closet for all my "almost" fitting pants and apply this technique, it can always be stitch ripped out later!
Happy Sewing!
Meg