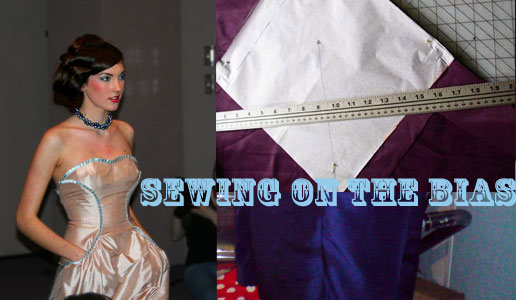 ShareThis
I've been sewing for quite a few years, but even now, I still sometimes have problems when I sew clothes on the bias. I'm in the middle of sewing a silk cocktail dress right now and I changed the layout of the pattern pieces, which ended up putting the bottom of the dress panels on the bias instead of on the straight grain as the pattern indicated. The result was that the seams where the bias-cut fabric meets the straight grain fabric are oddly puckered and require a few days of hanging free in order to "grow".
Fabrics cut on the bias can behave in unexpected ways when you start to sew them and when they interact with other pieces of fabric – the same properties that made them so valued in beautiful 1930s hip-hugging evening gowns, also means that they tend to stretch for a while even after you've cut them. So if you're sewing with bias-cut fabric, you need to let it hang for a few days before you attach it to the rest of your garment. This was the crucial step I forgot in my impatience! Luckily I can just rip out the problem stitches and let my cocktail dress rest for a few days (and think about what she's done, I reckon!), but if you're making a dress like Shari that has a bias cut skirt, you might want to read up on some tips on sewing with bias fabrics (or vintage tips here) first to avoid using the seam ripper!
Sewing on the bias isn't anything to be scared of, though – you don't have to be Charles Kleibacker to make a beautiful and flattering bias-cut dress!
(The gorgeous gown in the photo is elneenya's Swirling Seams Gown)