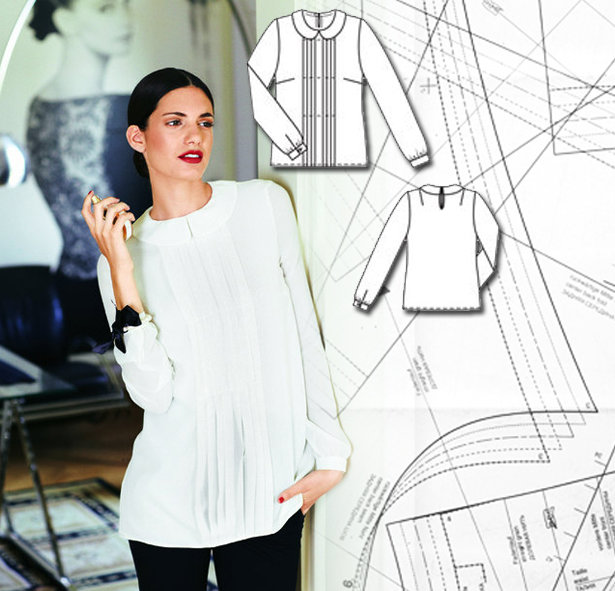 ShareThis
Here is an easy to follow sewing lesson for our Blouse with Front Pleats sewing pattern that debuted in the October 2011 issue of Burda Style magazine in our recently updated Cameo pattern collection. Check out all the great diagrams to help you sew this delicate blouse!
This is a fun twist on a classic blouse style. This blouse has no center front opening, and instead it has a back keyhole to get in and out of. When I make this blouse I would sew the main body in a neutral fabric and then the attached pleats and collar I would cut in a bright color or print!
Refer to this pattern's store page here for specific fabric yardage and notion requirements. Also remember to add seam allowance, which can be found in the instructions after purchase.
Before you start sewing make sure you read and follow all the steps in the Preparation and Cutting Out sections of the pattern's instructions. Place right sides of fabric together to baste and stitch. Secure beginnings and ends of ­seams by backstitching.
Step 1- Pleats, centre front: Fold the centre front so that lines of each pleat meet (arrow point/ arrow end), right side facing in. Baste the pleat lines together. Work from wrong fabric side to lay the pleats each toward the centre front and press. Baste the pleats to the upper and lower edges. Press the side edges to the inside on the fold lines.
Step 2- Darts: For darts, fold the side fronts and the back (inner and outer pieces) each along cen­ter of dart, right side facing in. Pin dart lines together. Stitch darts, beginning at the side and upper edges. Do not backstitch at points of darts but knot thread ends securely.
Step 3- Press the bust darts down. Press the shoulder darts toward the centre back.
Side seams and shoulder seams: Lay side fronts (outer pieces) right sides together with outer back. Pin shoulder seams and side seams. ­Stitch seams. Trim seam allow­ances to 7 mm (1/4 in) wide and neaten edges together. ­Stitch seams on inside pieces in same manner. Press ­seam allowances onto back.
Hem: On outer and inner layers, press hem allowance to inside, turn raw edge under to 7 mm (1/4 in) wide, and edgestitch the hem in place.
Double the blouse units: Lay outer piece on inner piece with wrong side of outer piece facing right side of inner piece, and matching shoulder and side seams. Baste layers together along front edges, neck and armhole edges, and around the marked slash line for the slit, on the back pieces.
Step 4-Back, slit: Slash back along slit line. Spread cut edges apart to a straight line. Stitch cut edges to bind­ing strip, right sides facing, catching as little fabric as possible at end of slit (arrow).
Step 5- Press seam allowances onto binding. Press opposite long edge of binding to inside so that distance between fold edge and joining seam is an even 1 cm (3/8 in) wide.
Step 6- Fold bind­ing strip in half to inside and pin over joining ­seam.
Step 7- Work from right side of back to topstitch binding close to join­ing seam, thereby ­catching inside half. Stitch across binding at end of slit.
Step 8- Attach centre front: Pin centre fronts to front edges of side fronts, at abutting lines – hem ­allowances of centre fronts extend at lower edge. Work from inside to pin inside pleat seams. Stitch. Trim ­seam allowances to a width of 7 mm (1/4 in) and neaten edges together. On centre front, press hem allowance to ­inside, turn raw edge under to a hem width of 7 mm (1/4 in), and edgestitch hem in place. Topstitch horizontally across centre front. Work top line of stitching 5 cm (2 ins) below neck edge (measured at centre front), then topstitch twice more, spaced 15 cm (6 ins) apart.
Step 9- Sew collar: For each collar half, lay two pieces together, right sides facing. Pin the outer edges together. ­Stitch. Trim ­seam allowances, trimming corners diagonally. Clip curves. Turn ­collar halves right side out. Press ­seamed edges. Baste open edges together.
Step 10- Attach collar: Baste collar halves to neck edge, right sides facing. Front ends of collar meet at centre front and back ends lie on binding of slit edges.
Step 11- Fold bias strip in half lengthwise, wrong side facing in. Press. Pin bias strip to neck edge, over collar halves, so that fold edge of strip lies on collar halves, 1 cm (3/8 in) from mark­ed seam line, and open edges lie on the seam allowances. Work from inner side of blouse to stitch along marked neck edge.
Step 12- Trim seam allow­ances and clip curves. Turn bias strip up and lay on seam allowances. Press and stitch close to edge.
Step 13- Fold ­bias strip over seam allowances to the inside. Fold bias strip with seam allowances to wrong side of blouse and baste in place. Topstitch neck edge 5 mm (3/16 in) from collar ­joining seam, not catching collar. On right edge of slit, make a thread loop below the collar joining seam. To do this, stretch a few threads then cover them with closely spaced buttonhole stitch. Sew the button to the opposite slit edge to match the loop. Hold back corners of collar in place with a few stitches by hand. Undo basting at pleats.
Step 14- Sleeves with sleeve bands: Bind sleeve vent as instructed for back slit. At front edge of vent (i.e. the edge further from the sleeve ­seam), fold binding to inside and pin in place. At the back edge of the vent, the binding extends, as an ­underlap. To ease each sleeve cap, stitch two lines of machine basting (longest ­stitch setting) to each side of the marked seam line, from • to •. Do not yet pull bobbin threads.
Fold each sleeve lengthwise, right side facing in. Pin the sleeve ­seams. Stitch. Trim seam allowances to 7 mm (1/4 in) wide, neaten edges to­gether, and press onto back.
Step 15- Gather lower edges of sleeves to match sleeve bands. To do this, stitch lines of machine basting on each side of the marked seam line. Hold the bobbin threads of the machine basting and slide the lower edge of the sleeve together along the threads, to match the sleeve band. Knot the threads. Distribute gathering even­ly. Pin sleeve bands right sides together with lower edges of sleeves – the ­seam allowances extend past edges of the sleeve vent. Stitch. Press the seam allowances onto the sleeve bands. Press the allowances on opposite long edges of the sleeve bands to the inside.
Step 16- Fold the sleeve bands in half, right side facing in. Pin the narrow ends of each sleeve band together. Stitch. Trim seam allow­ances, trimming diagonally across corners. Turn sleeve bands right side out. Press. Pin the inside halves of the sleeve bands over the joining seams. Work from the right side of each sleeve to top­stitch the sleeve band close to the joining seam, catching the inside half. Work one buttonhole in the front edge of each sleeve band. Sew a ­button to the back end of each ­sleeve band, to match the buttonhole.
Step 17- Setting in sleeves: First pin each sleeve to the underarm curve of the armhole, right sides fac­ing. Match sleeve seams and match side seams. Seam marks (6) on sleeve and front must match.
Step 18- Then match the shoulder mark on the sleeve cap to the shoulder seam and pin. Now slide the fabric of the sleeve cap together, along the bobbin threads of the ease stitching, until the sleeve matches the armhole. Pin the ­sleeve cap in place, distributing the fullness evenly. Work from ­sleeve side to baste and stitch sleeve in place. Trim seam allowances to 7 mm (1/4 in) wide, neaten edges to­gether, and lay allowances toward sleeve.
Now you have a versatile blouse with a punch of movement and style! I would wear it with a nice and bright pair of skinny pants like these cigarette pants. Then wear with a nice pair of boots and statement necklace. This blouse is a great transition piece into the warmer weather. Can't wait to make my version of this blouse!
Happy Sewing!
Meg