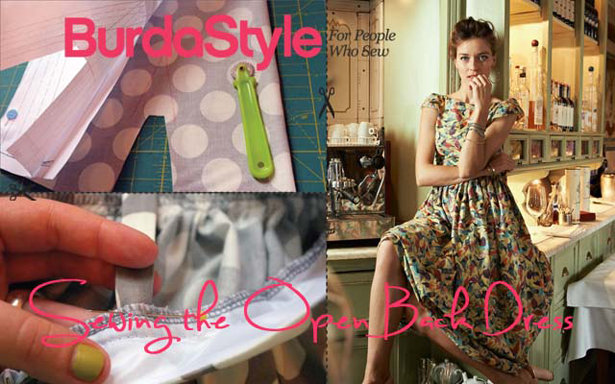 ShareThis
September's Limited Edition Pattern Kit is on sale now! Take a look at what's inside. This month, we're sewing up the member favorite Open Back Dress.
September's pattern kit features one of BurdaStyle's most popular designs, the Open Back Dress! This special kit includes the pattern PDF and instructions, plus all the extras you need to sew a one-of-a-kind piece, all at one low price. Have you been waiting to make this pattern because you needed a little extra help? This kit comes with a detailed step-by-step tutorial by Meg Healy, plus full length technique videos covering the invisible zipper insertion, gathered sleeves, stitching the lining to the bodice, sewing the back straps, and more! PLUS, you'll get 10% off your entire purchase to MoodFabrics.com.
This kit is only $39.99. That's a 60% savings!
Take a peek at everything that's inside…
BurdaStyle Open Back Dress
pattern PDF and instructions

This best-selling pattern has total femininity. Ankle-length dress with fitted bodice, layered skirt and short gathered sleeves. It's respectably high cut at the front, but the back plunges alluringly down to the waist.
RETAIL: $5.40
Sewing the Open Back Dress Tutorial


An in-depth tutorial by instructor and BurdaStyle editor Meg Healy guides you through each sewing step, from cutting the pattern to attaching the skirt and bodice. You'll also learn how to size this pattern for petite, regular, and tall fits, assemble the skirt, and sew the lining.
RETAIL: $19.00
Technique Video: Sewing an Invisible Zipper
Video

Make sure your invisible zipper insertion is flawless with this video.
Length: 16:04 minutes
RETAIL: $21.99
Technique Video: Sewing the Lining, Strap, and Gathered Sleeve
Video

This technique video helps you tackle the lining, strap, and pretty gathered sleeves without fear. Meg Healy talks you through these tricky steps so you can sew with confidence!
Length: 16:10 minutes
RETAIL: $21.99
10% Off at Designer Fabric Store MoodFabrics.com


Make your dress shine in designer fabric from MoodFabrics.com. You'll receive a code for 10% off your entire purchase with this kit.
Value: $10.00+ (based off fabric needed for pattern)
BurdaStyle Styling Guide
PDF

Finish your look with styling tips from the BurdaStyle editors. Meg, Dani, and mandie share their picks!
RETAIL: $4.99