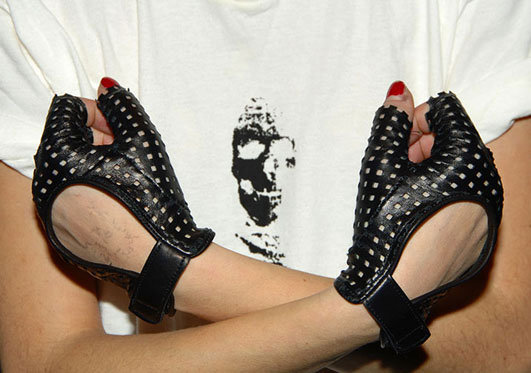 ShareThis
This week, BurdaStyle goes on the road.

TREND

GET

A

GRIP

Let's just say I have mixed feelings about Karl Lagerfeld. On the one hand, yeah, the guy's a force of nature; he's, like, 70 years old and a trendsetter anyway, a dude with admirably catholic taste and a work ethic that could put a Navy Seal to shame. On the other hand…I don't know. Something about Karl rubs me the wrong way. The old-world sneer, the pallor, the hunting eyes hidden behind oversized shades. I think he's a vampire. I know how that sounds, but hear me out – how else does he stay so perpetually au courant, if not by feasting on the blood of virgins? Karl, they drawl after him, his newly-minted zombies, so…genius…

Anyway. Karl's on my mind because I'm hungry for driving gloves, and Lagerfeld has become fashion's best and biggest advocate for a pair of taut, fingerless 10 & 2 specials. According to the profile of him that ran in The New Yorker last month, he has hundreds of pairs – studded ones, black ones, gray ones, maybe even suede ones, who knows. Admittedly, the look is fierce, sort of S&M, sort of punk, and that's the frisson I get from the driving gloves I most covet, Obesity & Speed's black perforated leather pair. (For the record, Obesity & Speed makes scrunchy wool ones that are pretty awesome, too.)

Here's where my ambivalence kicks back in. Can you imagine Karl Lagerfeld, you know, driving? This is how I test the vampire theory, I try to imagine Karl doing things are totally average and normal. Like, eating a banana, or holding a baby, or parallel parking. I have zero trouble imagining Marc or Miuccia or even Tom Ford doing any of those things, but my mind goes blank when I try to direct the scene with Karl in the shot. Interior, dentist's office, day; Karl enters. Bam! Black screen. Missing reel.

In other words, Karl's fetish for driving gloves is a fashionisto affectation, sort of like that fan he used to flutter back when he was fat, but less openly nefarious, and therefore more genuinely demonic. It's also an affectation not too far removed from cruising around manicured suburbs in a tricked-out, all-terrain SUV. I don't plan on wearing driving gloves around Manhattan; I walk everywhere, and I don't suck blood, so I can't pull off a big fake move the way Karl does. Virgins, hear me now: Save the gloves for the car. One hand on the wheel, the other shifting into fifth – meow. There's a sexy pleasure to be had from waiting for the moment when form meets function, the kind of pleasure the undead will never have the chance to know.