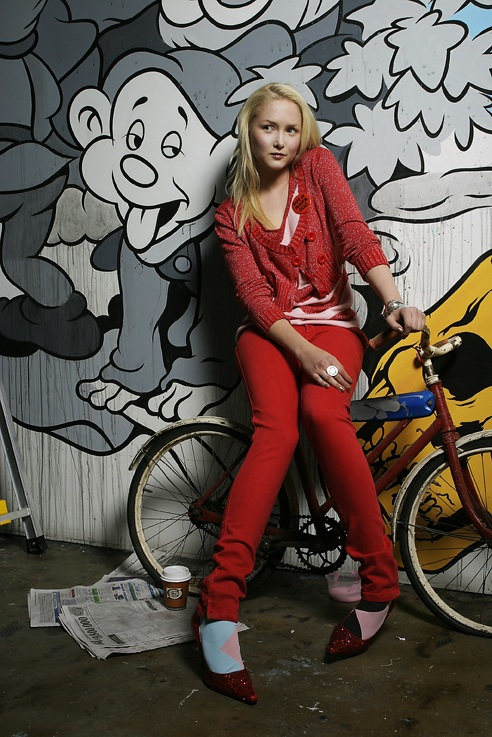 ShareThis
This week, BurdaStyle gets its groove on.

DYE

,

DYE

MY

DARLING

As a trend-watcher, I feel it's my duty to blow the whistle on criminal style. Technicolor denim is on the right side of the fashion law, though I'm sitting the trend out in deference to the axiom that any fad you wore the first time, you sit out when it comes again. Like a cop at a broken stop light, however, I'd like to halt fashion traffic for a moment, and point out where history tells us this particular fad is headed. When I was ten, my babysitter had a pair of pink jeans she liked to wear on Friday and Saturday nights, when she was going out later.

A year later, the date-night jeans were pink with red roses stitched into the material, like upholstery fabric. A year after that, she wasn't my babysitter anymore, but I'd see her around the neighborhood in head-to-toe acid wash; one favorite outfit was a pair of pleat-front, peg-leg JouJous with matching cropped jean jacket. (I'm sure there are some Debbie Gibson and Tiffany videos floating around YouTube, so you can revisit this look for yourself.) I've got no problem with this year's colored jeans – the jewel-toned denim Ksubi has been doing for a few seasons has a fresh, sexy, early rave energy, red and skinny tilts mod, and an abbreviated neon mini can cut a punkish slash through an otherwise all-black outfit. This stuff will work; the key is the styling. But I'm calling the trend out for suspicion because I've seen what happens when our collective, narrow notion of what denim is supposed to look like blows wide open. It's a short trip from pink jeans to flower-patterned ones to acid-wash denim warrior outfits, and until Nicolas Ghesquiere blows an acid-wash look down the runway and proves to me that an update can work, I'm sticking with indigo, overdyed black, and natural fade. Ignore this warning if you want; all I'm saying is, proceed with caution. We've been down this road before.