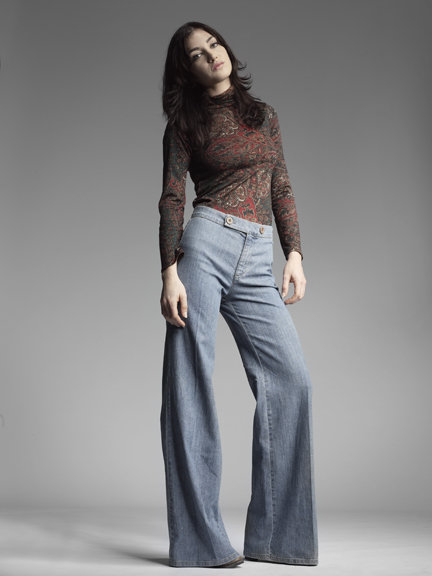 ShareThis
This week, BurdaStyle goes L.A. native.
TREND
WAISTED
Kiss my ass, I thought when I saw the high-waisted jeans at Chloe a couple years ago. Like most women, I'd built a fine collection of denim around the idea that a dark, slouchy, skinny pair that rides the hips was about as sexy as jeans could get. Screw you, Phoebe Philo, my mind played on, half apologizing to the departing Chloe genius as my train of thought kept running. It'll never happen.
What a difference a few seasons make: Skinny jeans are so everywhere they're looking tired, and the pair that makes me salivate now is a belled-out, waist-cinching pair by the brand new denim brand Lips.
Lips is based in Brooklyn, but count on two boys from the Borough, Loren Cronk and Daniel Donahue, to resurrect the L.A. denim vibe. If skinny jeans read mod, Lips' Colette jean augurs all kinds of California dreaming: Laurel Canyon house parties, Topanga sunsets, Malibu hideaways and Neil Young's Zuma LP. Like any major change in silhouette, this one takes some adjustment: A wide-leg pant means no more extra-long or blouson tops, and no knee-high boots or ballerina flats. The good news is that there's no need to throw that stuff away: Lips cuts a few narrow jeans, too, albeit not the legging-tight pairs that arrived last season to portend the end of the trend. I think what we're seeing is a new democracy of denim, with the caveat that waists are universally higher. Parisian label April 77 and Swedish brands ACNE and Cheap Monday are likewise showing a high-waist on virtually all their jeans, even the ones you have to paint yourself into. Long story short: Kiss that ass crack goodbye.