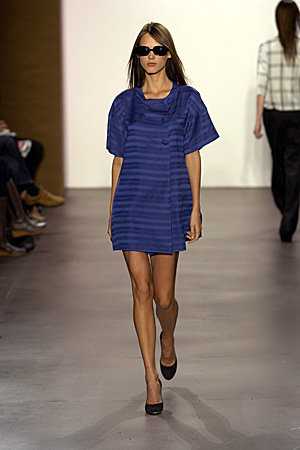 ShareThis
This week, BurdaStyle celebrates Parisian perversity.
TREND
SHIFT
KEY
This week, BurdaStyle celebrates Parisian perversity.
I've had contact lenses since high school. I wear them
almost always. When I do go out in my glasses, a
half-rimless, sexy librarian style of pair, people
often tell me that they "work" for me. Nothing sends
me back to the contacts faster than that comment. It's
not like I'm shy of acting smart, but something in me
doesn't like to signal my personality in advance.
Glasses match me too well, I suppose; they reveal me,
and little of my me-ness is generally in vogue.
This season, I think, is the exception to the rule.
When Yigal Azrouel sent models down his runway wearing
big, black-rimmed glasses, it struck me that a sharp
tongue, a sagging bookcase and a subscription to The
New Republic were appropriate accessories to the
largely serious and, yes, bookish looks for Fall 2007.
(In support of this theory, sort of, Jun Takahashi at
Undercover sent out doctor bags that looked like
brains.) You often hear talk of a "thinking man's sex
symbol," but Yigal's show summarized the rise of the
thinking woman's sex symbol: The thinking woman,
herself.