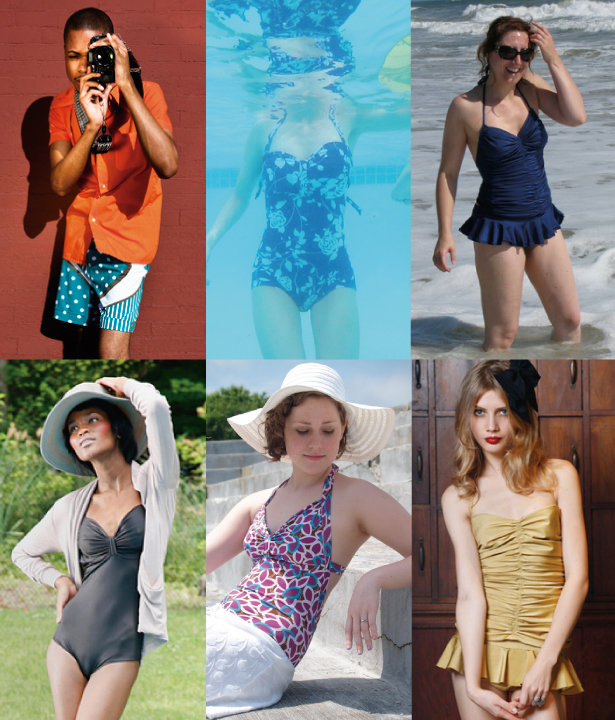 ShareThis
Making a bathing suit is not a quickie project because you cannot fit as you go. I'm a fearless sewer and make almost everything I own (including leather jeans), but making a bathing suit I love has proven to be a challenge.
I made my first bikini out of African cotton. It looked fabulous, but when I got out of the water the cotton had absorbed so much water that the elastic couldn't hold them up and the pants fell off! Using the right fabric when sewing a bathing suit will help to attain success.
When starting a bathing suit project, testing the pattern in an inexpensive fabric with the same stretch qualities will save you time and disappointment. Ripped stitches in bathing suit fabrics create holes which then turn into runs. Making mistakes on a test fabric will also help avoid frustration.
The best fabric for bathing suits is a Lycra® blend with Antron®, Supplex® or Tactel® since they do not absorb water and give you freedom in movement.
When working with this fabric, sew seams with polyester thread, a 70/10 SUK needle using the triple stitch, a machine stitch which backward and forward in the necessary in areas of stress. Other seams can be sewn with a small zig zag. A four thread serger gives a nice seam finish but not mandatory since these fabrics do not ravel.
Use the greatest stretch of the fabric around the body. Before inserting elastic in the legs, try it on for comfort. The elastic should be snug, but not binding. Elastic in the legs are sewn first to the right side with a zig zag stitch (4.0mm in length and 4.0mm in width). Give the most pull in the elastic on the back of the leg. The next step is to turn the elastic to the wrong side of the fabric and sew again using a narrower zig zag (1.0mm width and 4.0mm length).
If you can sew well enough to make a bathing suit you should be watching my Power Sewing WebTV show. The knowledge you will gain will be equal to a Master's program!
Feeling inspired to try your hand at making a bathing suit? Check out some of these awesome options:
Alison – a vintage-style one-piece
Cindy – our flirty, ruffled two-piece
Jessica – a cute and fresh bikini pattern
Andre – our super-chic men's trunks
Sandra Betzina is the host of the Power Sewing WebTV Show and designs a full line of patterns for Vogue under the Today's Fit Tab.
Sandra has also produced a skill series of 11 DVDs and is the author of: More Fabric Savvy, Fast Fit and Power Sewing Step-by-Step. Her new book, Power Sewing Toolbox: Tips & Techniques Not Found in Pattern Instructions will be released in October, 2010.
For more information about Sandra Betzina and Power Sewing visit www.powersewing.com.