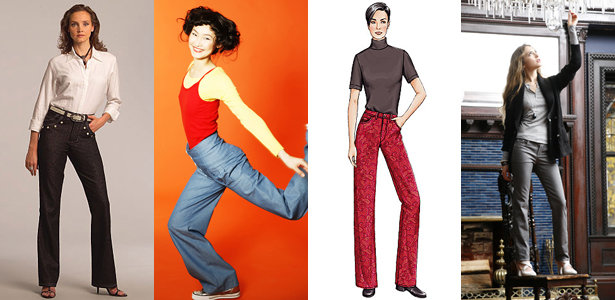 ShareThis
If we took a poll for a favorite fabric, denim would win hands down, not only in the United States, but much of the rest of the rest of the world. Don't believe me? think about all the jeans you own. Denim wears like iron, even improving with age. I have been a denim fan forever, not only the classic, blue denim, but black, charcoal grey and even white denim for the warmer months. Denim is great because it runs the gamut from casual to dressy all depending on what you pair it with.
There is an ongoing debate on whether to use stretch denim in jeans. Though it can be necessary for some patterns, such as the tight leg or cigarette jeans that you see on the runways, I avoid making jeans out of it because after a few wearings, jeans tend to take on our natural shape, meaning the give that the stretch denim has will end up sagging at the knee and butt area because it's where we bend most often. Most women claim to own a minimum of 7 pairs of jeans, they love the way they look in jeans. Why would thay want to lose the look by using stretch denim?
For both stretch and non-stretch denim, there are many different weights, which leads to lots of confusion when fabric shopping. This weight refers to the weight of 1 meter (3 inches longer than a yard) of denim. Personally, my favorite non-stretch denim weights are 12 to 14 ounce denim. Heavier weights are better for jeans, jackets and straight skirts. The lighter weight denim is better for if you want to make a dress.
There are some great patterns here on BurdaStyle. Take a look at the Anita, the high waisted Bella, and Ellen to name a few. I have also personally designed 2 jeans patterns which really fit, unlike conventional patterns: VOGUE 1034 and VOGUE 7608. Some people like the look and feel of really tight jeans, to achieve this look, just make the jeans a size smaller than you measure.
When making your own jeans, keep in mind that denim shrinks big time! Before you cut anything, preshrink the denim in a hot water wash and hot dryer at least 2 times, my preference is 3; then you know the garment won't shrink after the first wearing.
Thread makes a big difference in jeans. It is important to use good-quality polyester thread as it is stronger than plain cotton. If the seams are under stress (think backside, thighs and hips) you should use upholstery thread on top of the seams to prevent ripping) When topstitching your jeans, make sure to lengthen your stitch to 3.5mm and use a heavy duty or upholstery thread about ¼ inch from the edge to get the right look. Gutterman, YLI and Signature all make threads that match the color and weight of ready-to-wear jeans.
Sandra Betzina, host of the Power Sewing WebTV Show and the Power Sewing Learn to Sew Series, is a world-renowned sewing instructor.
Sandra is the author of More Fabric Savvy, Fast Fit, Power Sewing Step-by-Step, No Time to Sew and Sandra Betzina Sews for Your Home. She has produced a skill series of 11 DVDs and also designs a full line of patterns for Vogue under the Today's Fit Tab. Sandra is also a popular speaker and hosts several week-long sewing retreats in San Francisco throughout the year.
For more great tips on working with denim and many other types of fabrics, refer to More Fabric Savvy and enroll in the Power Sewing WebTV Show.