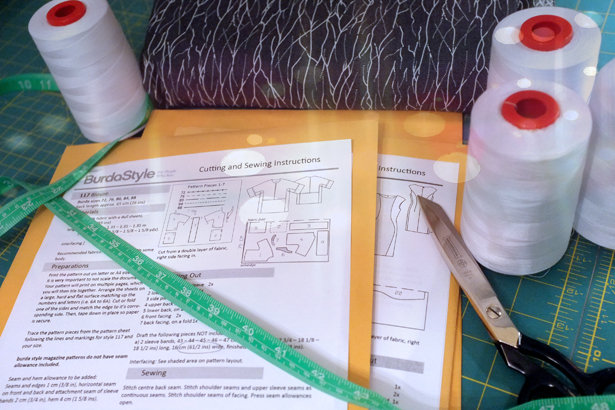 ShareThis
It's no longer 2013 (it went so fast!) and maybe you have made some resolutions for the New Year. You resolutions don't always have to be about shedding that holiday weight (I know that is always mine), but this year instead I made sewing related resolutions. I spend 85% of my time in my sewing studio, so this year I made resolutions to make my time more effective and gear my focus on making 2014 my most creative year yet! Check out my plans and see if you can come up with your own.
This first thing I want to do in 2014 is organize all my printed patterns. They are easy to store when first printed, but once you assemble them they can become quite the odd shape and sometimes awkward to store away. I found a solution that really works great! I got a bunch of large folders and put the pattern inside, then I tape the instructions to the front of the folder (only tape the last page so you can still flip through the pages) so I know which pattern is inside. Another tip is to circle the size that you cut the pattern in! Then simply store in a crate or box, I have mine placed under my drafting table so it is nice and easy to access. I started this process and still need to finish.
On my next To-Do for 2014 is to make a coat! I thought back on my sewing past and I have never really successfully made a coat (I have about 2 half way finished ones, haha). I want to sew a fully lined and wearable coat, and I already have our Cocoon Coat printed out and ready to assemble. So if you guys don't see this project posted in a couple months please bug me and remind me to make it!
Another vital key to my sewing success this year is to organize my messy fabric bin. How am I supposed to sew anything if my fabric storage looks like this! I should probably tackle this before my coat. Any suggestions on how to best store and organize fabric? Please let me know in the comments below.
Through my fashion and sewing schooling I have accumulated a TON of great resources and inspiration books. Now they are more of a 'decoration' in my studio but I really want to take time this year and revisit them, as they can be a great source of inspiration for future projects and designs. Also, not to mention a great resource for new sewing techniques.
In school I did of lot of sketching, drawing, and collaging. I really want to dedicate at least 1hour a day to this, as it is very relaxing and a great creative outlet. This is something I really want to continue doing in 2014. Do any of you guys collage and sketch?
Lastly, I really want to start a style blog! I make and sew so many neat things from our patterns, and I want to document them in a blog because I re-wear and re-style all the garments in my studio. I think it will be a great way to show everyone my unique style and how I integrate my hand-made garments into my wardrobe.
Want to make your own sewing resolutions this year? Maybe it is to better install zippers, or start to work with different fabrics. Whatever it may be here are some great resources you can utilize here on BurdaStyle.com.
Our live and recorded Web Seminars are fantastic for learning more about sewing and fashion related topics.
Also, our Video Site is great to showing your specific sewing and pattern making techniques. Another great way to seek help for your sewing resolutions is to post in our Forum. Our BurdaStyle community is so knowledgeable and eager to help a fellow seamstress.
Happy 2014 sewing!
Meg
Meg Healy is BurdaStyle.com's Online Editor and eCommerce Manager. She has an education in fashion design and earned several awards for her technical skills in pattern making and sewing.