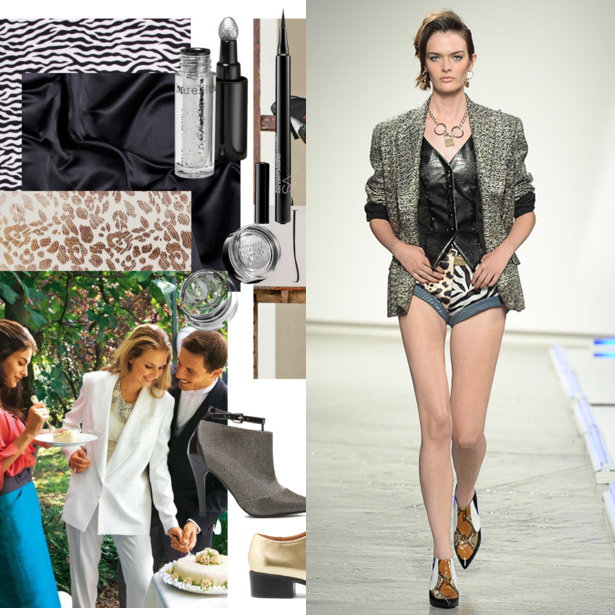 ShareThis
We're counting down the hits of New York Fashion Week. Today's pick? Rodarte!
Today's shows featured some of ready-to-wear's heavy hitters. Marc by Marc Jacobs, Vera Wang, Jil Sander, and Badgley Mischka all debuted their collections today, but picking a favorite was surprisingly easy. The sisters Mulleavy at Rodarte sent out a collection that was part Scarface, part New Wave icon, and part warrior vixen. With a little animal print, a little satin, several strong-shouldered smoking jackets, and no small amount of fringe, this collection had attitude to spare.
The look on the left opened the show, and captures the attitude of this collection. Rock and roll elements like studs, fringe, and snakeskin, reworked for a modern fashionista. The look on the right is one of my favorites, and could easily be adapted to real life wear. Simply sew up a strong-shouldered jacket in an eye-catching fabric, either metallic jacquard, black satin, or leopard print. Off the runway, swap out the hot pants for black satin trousers in the skinniest cut you feel comfortable wearing.
Another repeating element of this show was slitted skirts, paired with bra tops, blazers, and East L.A.-inspired open shirts. This skirt is easy to replicate with the Slit Skirt pattern. Add an extra long fringed trim for the authentic Rodarte look!
The statement blazer appeared throughout this show in multiple patterns and textures. In silky animal print, metallic tiger stripes, or over a black crocodile vest, it's power dressing in excess. What's fashion week without a little decadence?
For blazers, try the Dressy Blazer or plus size Spencer Jacket. I love this subtle ivory leopard print, which would look over-the-top glam with a gold lining. If you're not ready to rock a full animal print jacket, why not use a solid for the shell and leopard or zebra print silk for the lining? Complete the look with a metallic or animal print shoe, black liner, and a touch of silver pigment in the inner corners of your eyes and on the browbone.
Rock on!
Fabrics shown from MoodFabrics.com. All Rodarte images courtesy of Style.com.