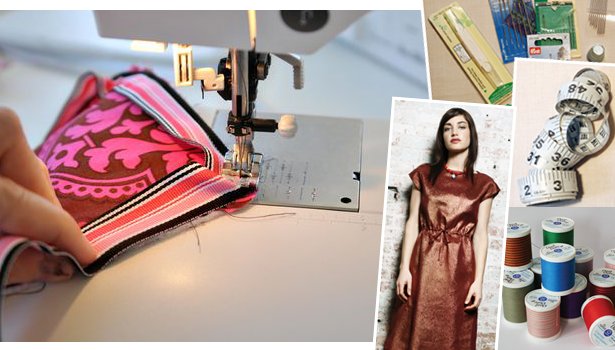 ShareThis
How many of your make New Year's resolutions? How many of you tell yourselves "This is the year I'm really going to start sewing!" I've done this a few time myself – but life always seems to get in the way. Chances are, if you are clicking around BurdaStyle you either know how to sew or you want to learn so I've pulled together some simple patterns for beginners and great tips from all around the web to help you (and maybe me too!) get started. Whether you want to just get familiar with the craft or really dig in and start making your own pieces, hopefully these tips will give you the drive and the confidence to finally start sewing!
Getting Started: If you're just getting started – here are some great tips for beginners including safety, threading a machine and practicing stitches.
BurdaStyle also created a step-by-step picture tutorial to help guide you through threading a machine. While each machine is different and you should consult your owner's manual for the best way to prepare your specific make and model, this simple guide will help you get a basic knowledge of how most machines are threaded.
Associated Content has a pretty comprehensive guide to help you get started. Covering the basics from info on needle sizes and making button holes to tips for sewing elastic into your garments, it gives you a good base knowledge.
Your First Project: Once you've gotten familiar with your machine, played around with a few stitches and maybe even made yourself an Easy Drawstring Bag, now you can consider tackling that first big project! There are a few things you want to consider before you jump into making a garment. Obviously you want to find a cool pattern, but one that is simple enough for you to learn with. Consider the following:
The Tunic – A simple piece that you can dress up or down. No complicated stitches, few pattern pieces to cut out and an easy shape that doesn't require too precise of a fit. You can play around with this until you feel comfortable working with fabric and stitching.
The Anda Dress – Everyone needs a classic dress in their closet. This one is great base to start and alter as you become more comfortable and familiar with sewing. Try it out in different color, pattern, proportion variations – once you've mastered the Anda dress there are so many amazing directions you can take this basic pattern into!
Another easy shape to start out with is an a-line skirt. This Above the Knee version is a great one to try out. This particular skirt pattern requires you to sew in an invisible zipper which may seem a bit tricky, but we have a few tutorials to help familiarize yourself with the process. This is a great tip for you to learn, as invisible zippers add a really professional finish to your garments.
Capes are such a versatile piece – perfect for that in between time when it's too cold for just a jacket but not quite cold enough for a heavy coat. This burda style magazine version is made of stretch jersey/wool so you can easily pull it over your head. With no complicated buttons, snaps or zippers, it's another perfect piece for getting started.
Choosing Your Fabric – Now that you've found the perfect pattern, it's time to find the right fabric. Fabric is so essential in making your garment and it's really important to know what type to choose before you start sewing.
This guide is a great breakdown of the various types of fabric, subcategories within each type and tips for working with the each – including which needles to use and how to cut and mark the different fabrics.
More helpful tips include checking fabric for straightness, looking to your pattern for recommended materials and ones to avoid, as well as considering the weight and print of your fabric, as these are also factors in how easy it will be to work with and assemble your garment.
For a bit more information and a visual reference, Colette Patterns came up with this great guide for judging a fabric's weight and drape which will help you look for fabrics based on how you want your finished garment to drape or feel.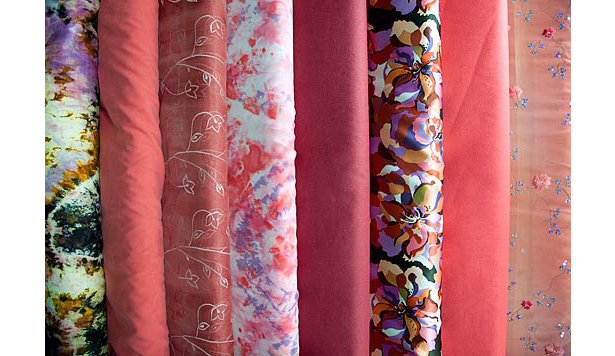 A Few More Helpful Tips:
Thread is another important factor to consider before you start making your piece. This thread guide takes you through the different types of thread, as well as what fabrics and projects you would use them for.
Every sewer needs a good toolkit. This list shows you the tools you'll need in your arsenal and what each is used for.
It's also helpful to understand the basics of a pattern and how to read and utilize the instructions. Familiarize yourself with the fabric layout and symbols before you start cutting to ensure that your garment comes out as intended and you don't run short on fabric or materials!
One of the best parts about sewing for yourself is that you can make garments specific to your body type and measurements. Once you get in the swing of making more and more of your own pieces, you'll want a dress form set to your measurements to help guide you as you put your pieces together. Proper dress forms are great but they can take up a lot of room and cost a good amount of money, but Threads has a few ways to make your own with tools you probably have lying around your house anyway!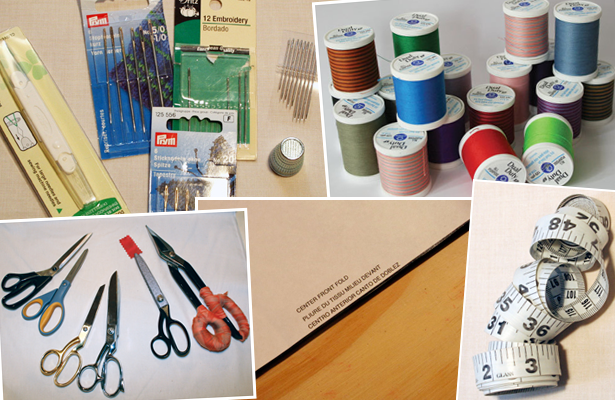 Alright, now you're well on your way to getting started! Also make sure you check out your tips for Learning How to Sew and techniques for Beginners and Basics in our learning section. Good luck!