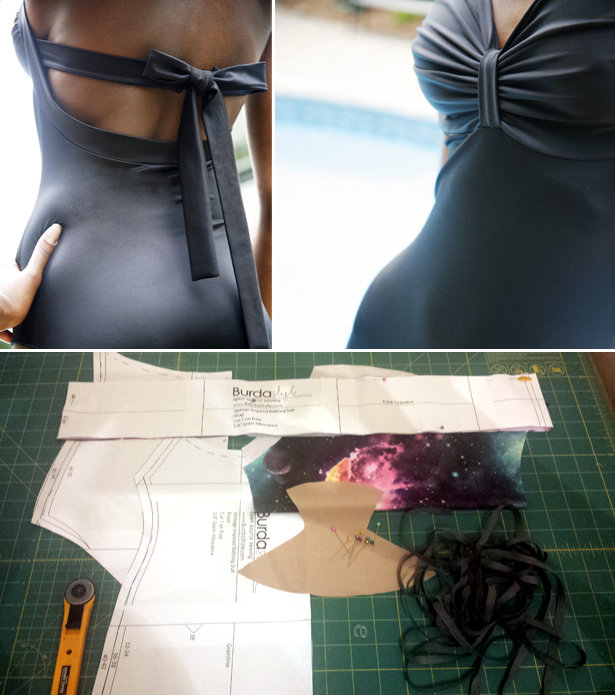 ShareThis
This is new project based webinar where you will learn step-by-step how to create your own Alison bathing suit. Once registered you will receive a free PDF download of the Alison pattern, and during this live webinar you will be able to ask questions as BurdaStyle's MegH takes you through the cutting and sewing process of this pattern. Register Now for the live event Thursday June 20th 11:00 a.m. EST (4:00pm GMT). Can't attend? No problem, each registrant gets a download of the PDF pattern along with a recording of the webinar!
Are you ready for summer? How about your bathing suit collection? Do you just dread bathing suit shopping? Well you can sew your own bathing suit to fit you perfectly, and also be in your favorite print and color. In this project based webinar we will show you step-by-step how to create our Alison bathing suit pattern from choosing the right fabric, cutting, fitting, and sewing. You will receive our Alison 50s style maillot PDF pattern upon registration, and during this webinar we will take you through the best processes to sew swimwear and specific sewing techniques to finish the Alison pattern successfully! This project is not for beginner sewers, it is geared towards sewers who are experienced in garment construction and want to learn more about sewing with lycra/knit fabrics.
So don't be intimidated, in this live webinar sewing extraordinaire Meg Healy will guide you towards finishing a lovely new bathing suit that is sure to be unique! She will show you specific techniques and answer any questions you might have. No question goes unanswered! Can't attend the live webinar? Everyone who registers will receive a recording of the event, any downloads or resources referenced during the webinar, and have the ability to ask any follow-up questions. The best part is that you don't have to worry about having the same suit as someone else at the pool party!
Register Here for the live event Thursday June 20th 11:00 a.m. EST (4:00pm GMT).
*Note you must create a new login to register for our webinars, your BurdaStyle account logins will not be valid.
ALL registrants receive the download PDF pattern as well as a recording of the webinar, for those you can't attend the live broadcast