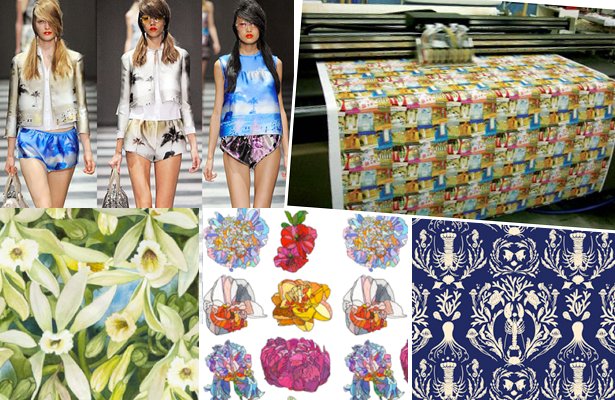 ShareThis
What's better than crafting your own one-of-a-kind garment? Making the fabric you use to craft your super one-of-a-kind garment! After posting yesterday's prints and patterns inspiration, I thought it might be great to show you guys a few ways to make those prints yourself. Fabric companies don't always bestow us with the most…uh, fashionable prints (dinosaurs and stars, anyone?) and often times the idea we see in our heads is hard to find in real life. I think that's the reason many of us sew, to make the things we want but can't find anywhere. Check out these ideas – from digital printing to stenciling – for taking that print you desire and turning it into your own unique fabric!
Has anyone ever had their designs printed on fabric? Spoonflower, Karma Craft, Fabric on Demand and Eye Candy are all relatively new companies offering to print up your unique designs on a range of fabric, from basic cotton to silks and linens. The fantastic fabric blog True Up did a great experiment using all four fabric printing services and created an amazing comprehensive guide detailing the pros and cons of each. Check it out before you invest in having your fabric printed, it could be a huge time and money saver!
Another way to digitally print your own fabric is to do it at home. This savvy crafter shows you step-by-step how to print and transfer your own design on fabric with just a printer, freezer paper and an iron. I wouldn't recommend this for garments, this process is best suited for small accessories and projects. Don't forget, an ink jet printer and water resistant ink are a must for this!
One more option for printing your own fabric at home, make sure to check out this product from Inkbloom called Loomtack™, a stabilizer that provides your fabric with enough stiffness to allow it to run right through the printer!

A digitally printed look from Alexander McQueen, the QualiJet HS Digital Textile Printer – for large scale fabric printing jobs, and much larger budgets!
Having your fabric printed is ideal if you want a complicated (ie: photo) or large scale design, however if you have simple, repeated design in mind block printing is a wallet friendly way of creating your own pattern. These directions from Cut Out and Keep should get you started.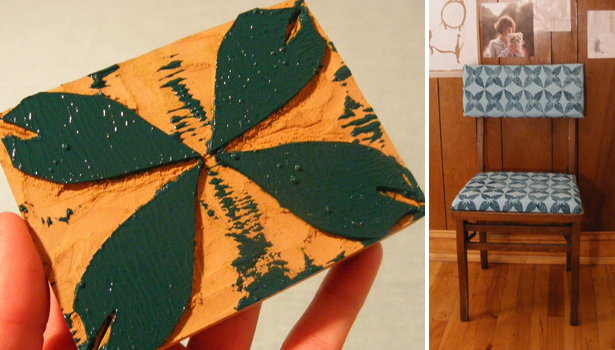 If you can't find a cool stamp and don't want to carve your own, you can always use a stencil like this printed duvet project from Design Sponge
Another option for getting that print on to fabric is screen printing. If you're new to this craft, check out helpful tips to get you started here and here.
Have you used one of these techniques to create your own design on fabric? Do you have any other tips or suggestions for creating a specialty printed fabric?